This is a step-by-step guide of how to use SaleBack – A Shopify App for Abandoned Cart & Marketing Automation via Facebook Messenger by SeedGrow.
---
1. Connect to Facebook
After installing SaleBack app, it will redirect you to https://seedgrow.net/cartback/. Then click on Connect to Facebook to continue.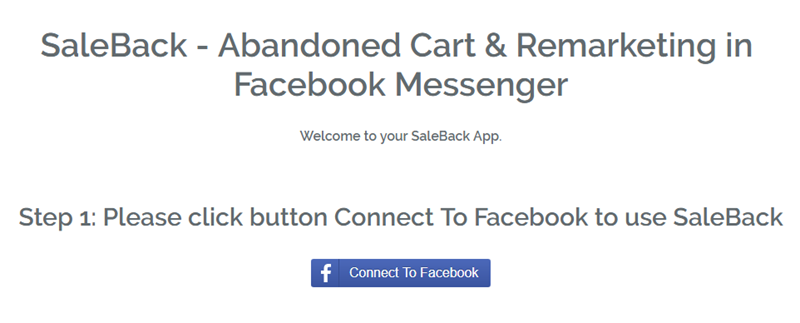 Click on Continue as.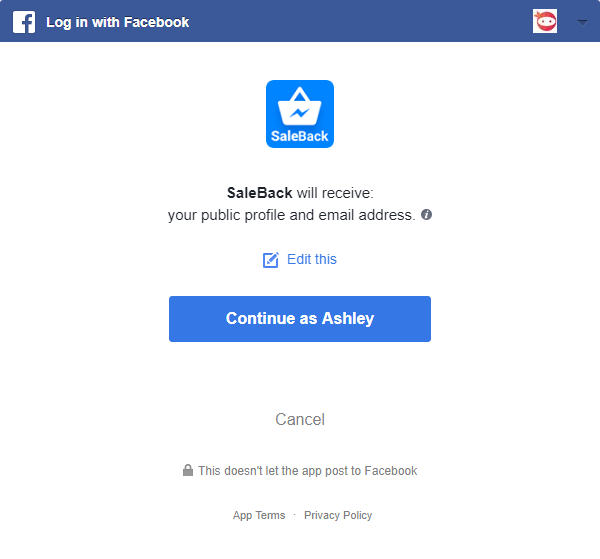 Accept these two permissions: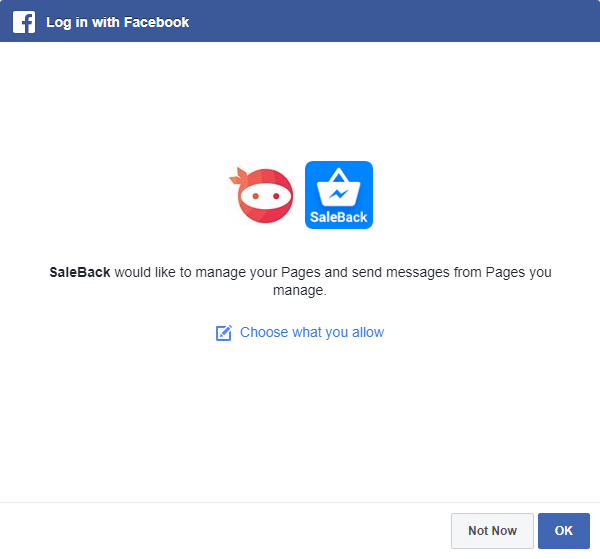 After that, you will be redirected to General Settings.
---
2. General Settings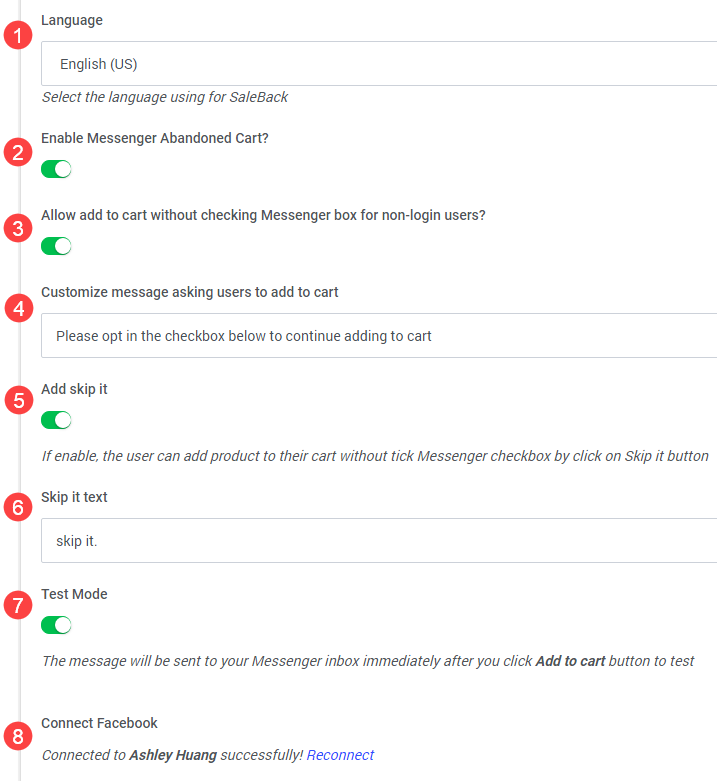 1. Language
Select a language for your Admin Screen.
2. Enable Messenger Abandoned Cart?
Enable or disable SaleBack.
3. Allow add to cart without checking Messenger box of non-login users?
Enable to allow users who aren't loging into Facebook to add to cart without opting in the checkbox.
4. Customize message asking users to add to cart
This message is displayed when an user tried to add to cart without opting in the checkbox.
5. Add skip it
This option allows the user to add to cart without opting in the checkbox.
6. Skip it text
Use this option to change the text "skip it".
7. Test Mode
When this option is enabled, the reminder message will be sent out immediately.
8. Connect Facebook
Here it shows the Facebook account currently connected to SaleBack. Click on "Reconnect" to connect to another account.
---
3. Reminder Options
1. Select a Facebook page.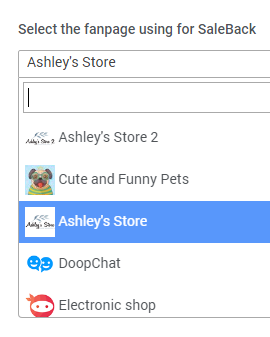 2. Three reminders are supported. With each reminder, there are four options to configure.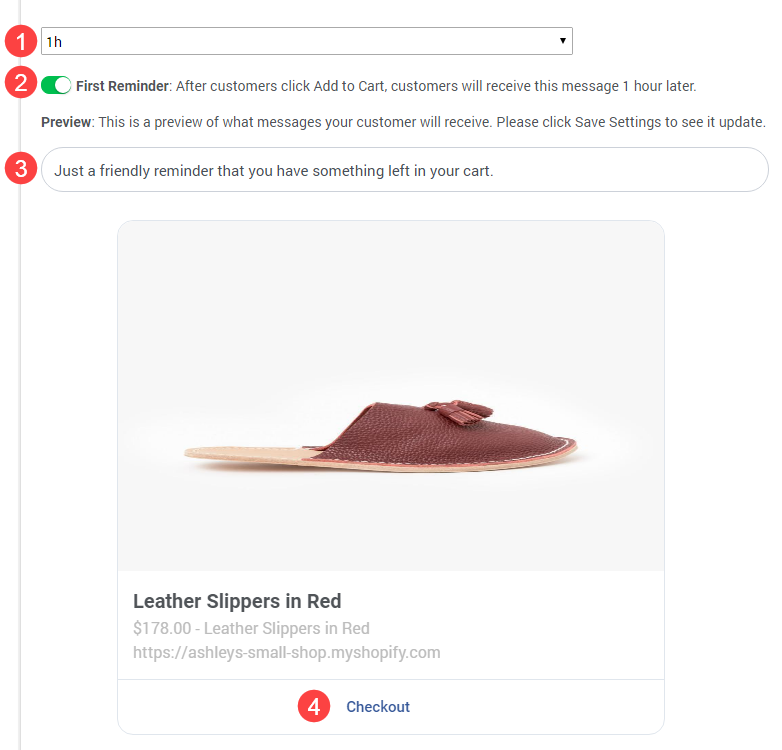 1. Timer: If the user still hasn't checked out after this period, the message will be sent out.
2. First/Second/Third Reminder: Enable or disable the reminders.
3. Message: This message will be sent out together with the abandoned products.
4. Call-to-action Button: Double click to change this text.
---
4. Create Coupon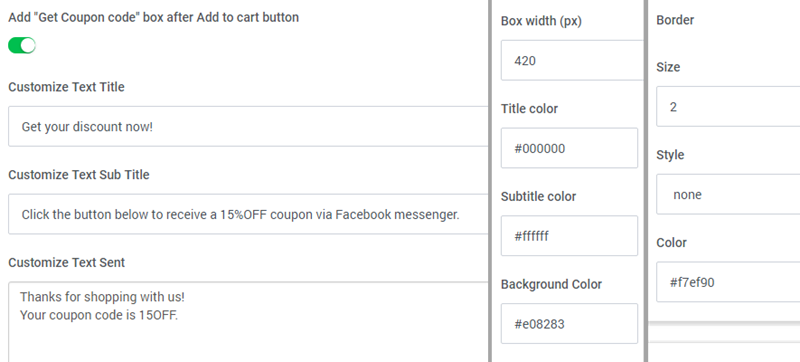 Here you can configure text and style of the coupon button.
And here is how the button may look like.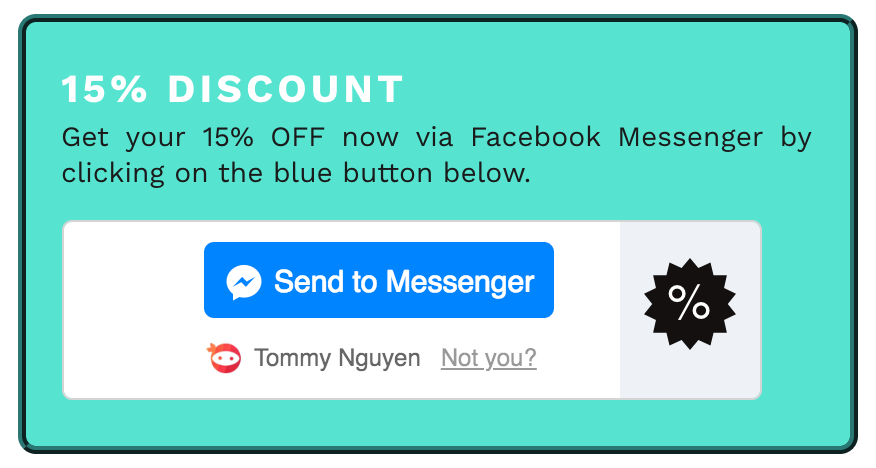 ---
5. Audience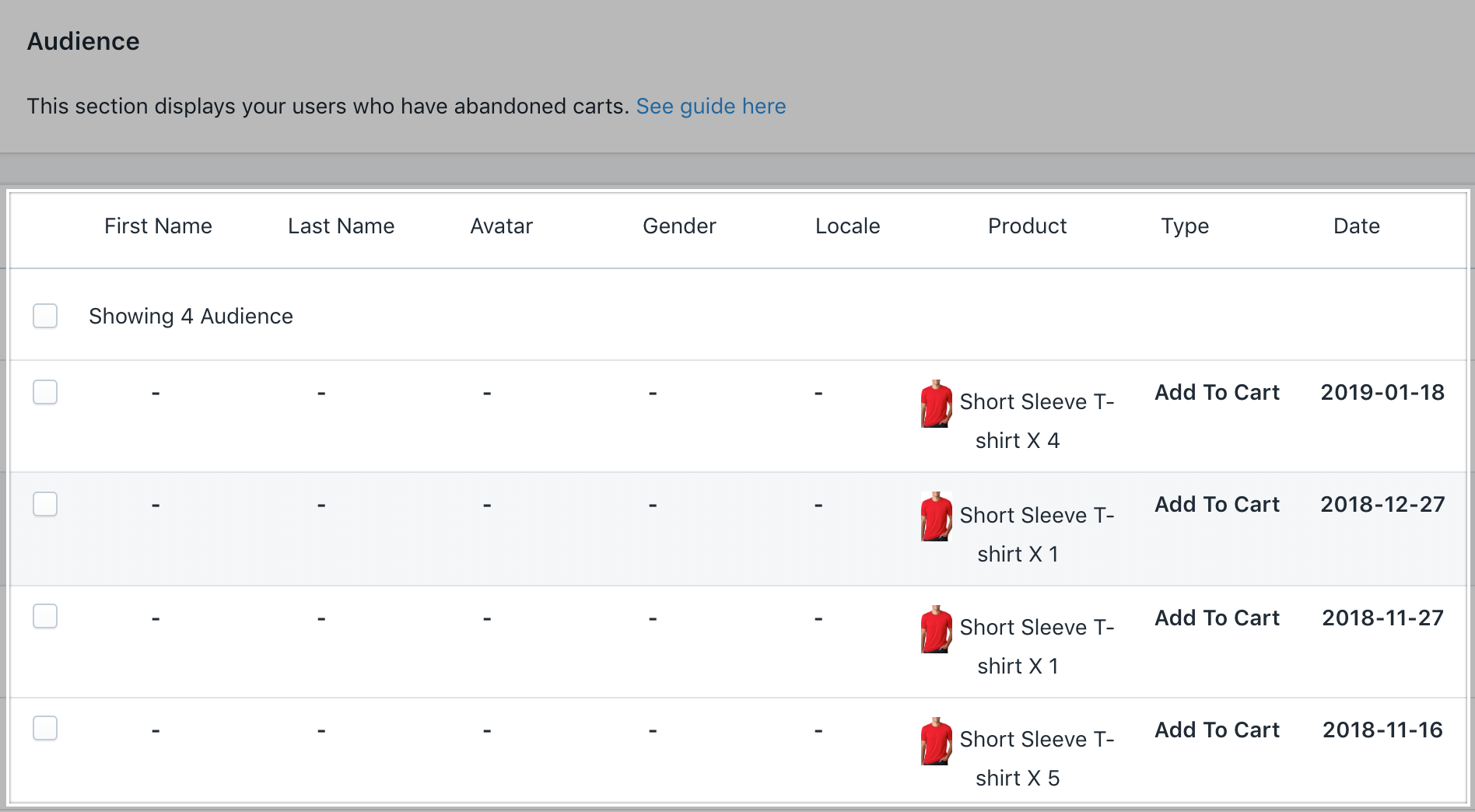 The users who have opted in the checkbox or coupon button will be listed here without any personal information. Once they reply a reminder message, their entries will be moved to Audience Response section, and the details will be listed there as well.
---
6. Audience Response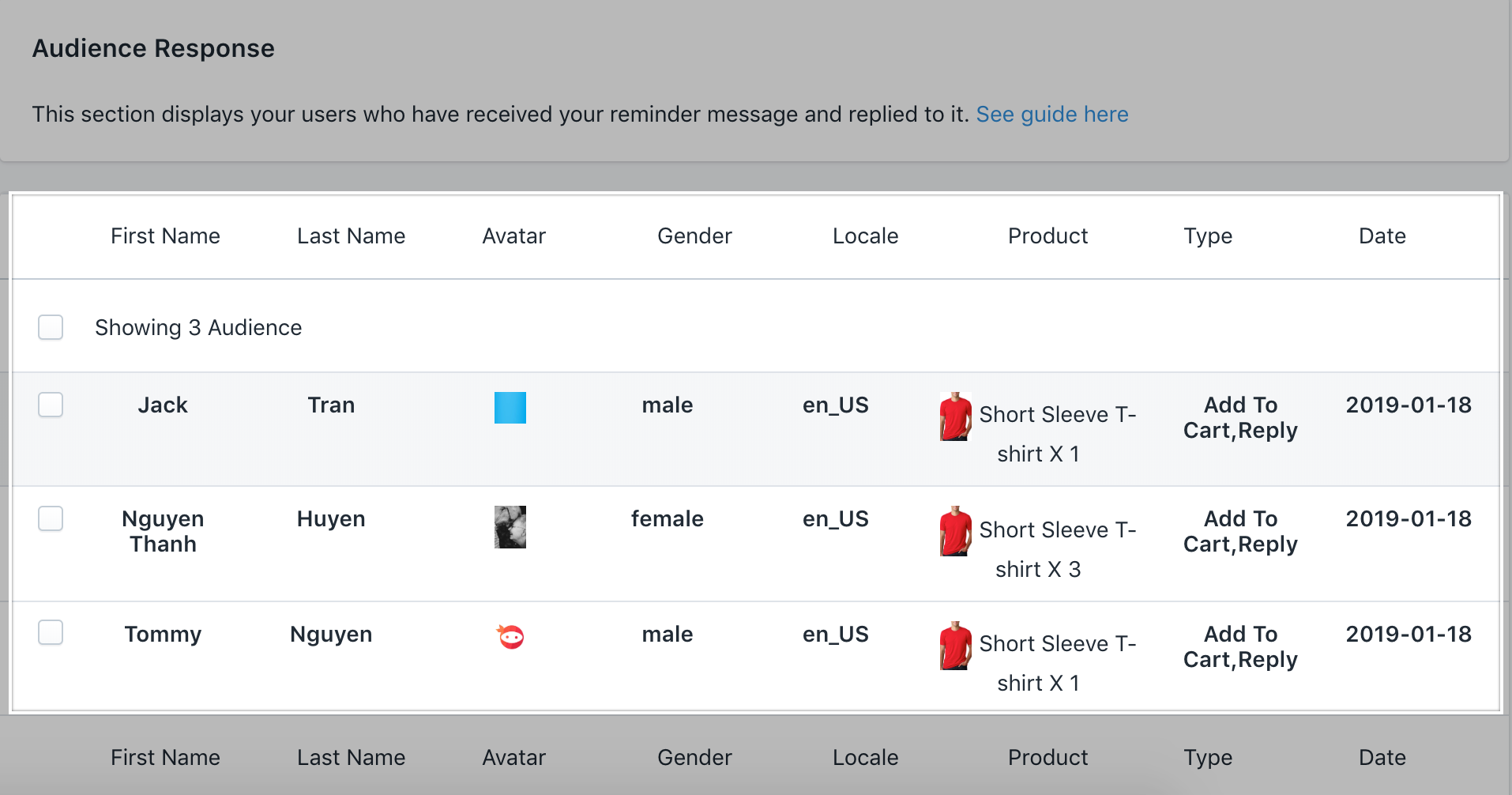 Here you can see detailed information, including full names, profile pictures, genders, users' Facebook languages, products added to cart, opt-in type, and date.
---
7. Add New Campaign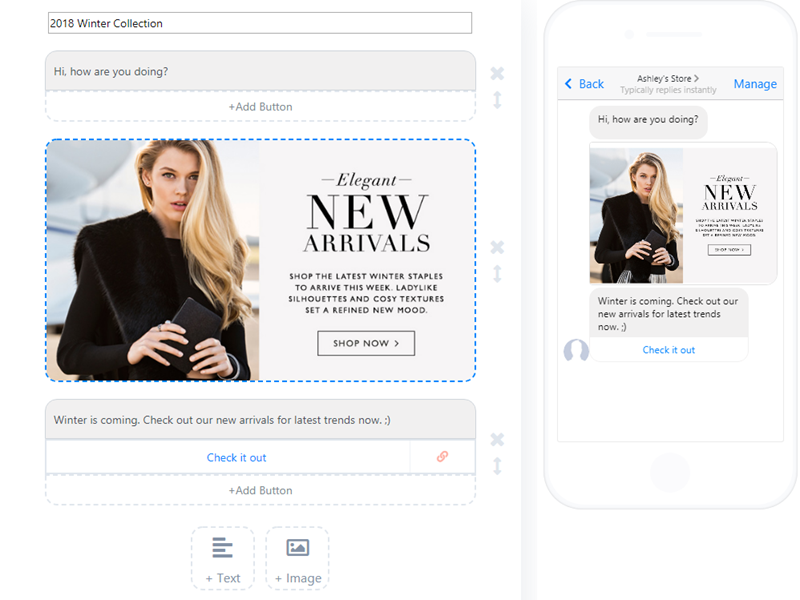 Adding a new campaign means that it will send out messages to the users listed under "Audience Response" section. The messages can include text, call-to-action buttons, and images.
---
8. All Campaigns

All created campaigns will be listed here with details including name, number of messages sent, campaign status, and date created.
---
9. Analytics
1. Choose a month to view the report:     

2. Coupon Users, Coupons Sent

Here are number of Facebook users who opted in the coupon button, and number of coupons were sent out.
 3. Revenue Recovered, Orders Recovered, Messages Sent

Here it shows three things:
1. Number of revenue recovered when your users checked out their carts via reminder messages
2. Number of abandoned orders recovered
3. Number of reminder messages sent out
4. All-Time Total Values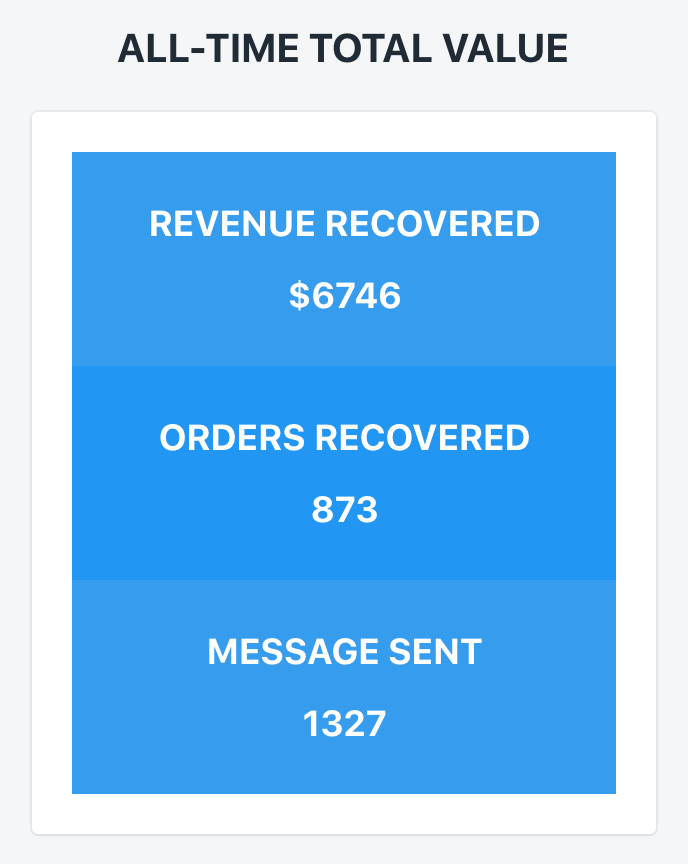 Here are total values of revenue recovered, orders recovered, and messages sent of all time.
---
10. Customer Chat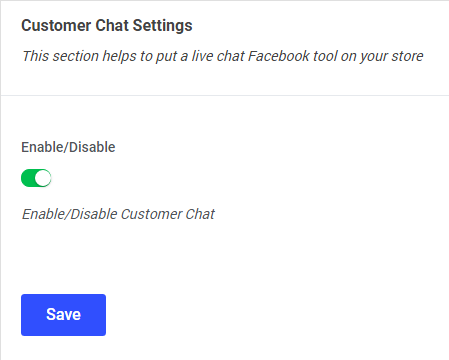 Here you can enable Customer Chat Plugin on your store. It is an addon that let your customers chat with your Facebook page on your store.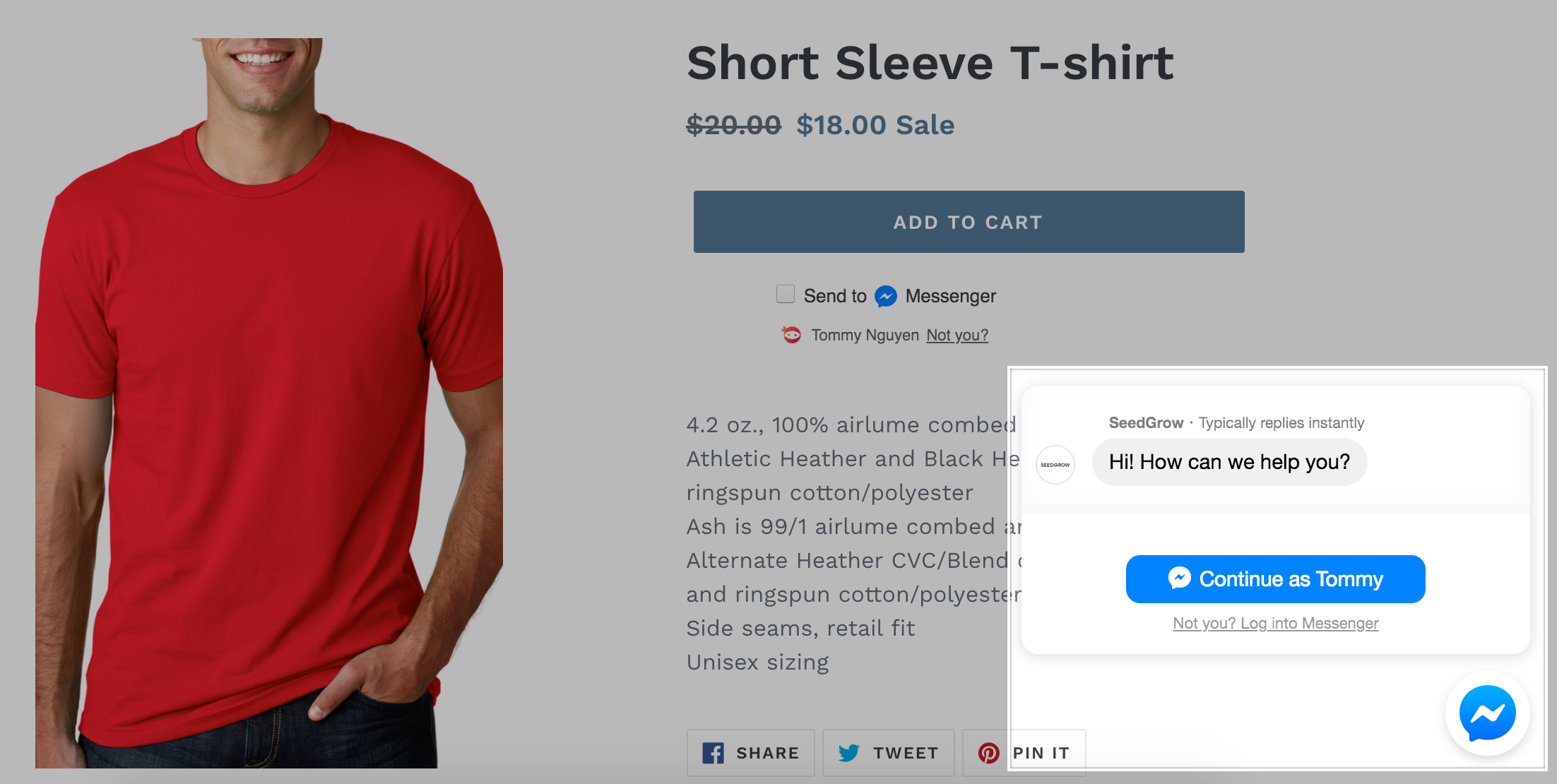 ---
If you have any questions or concerns, don't hesitate to let us know.
You can message us on our Facebook Page or email us at [email protected]
Many thanks from SeedGrow Team!