Whenever the word online e-commerce stores come up, good reviews are the most likely topic on the agenda. Good reviews are vital to the success of any e-commerce platform. The Shopify marketplace is now evolving; people are shifting from physical market meetups to digital connects. With more benefits, you, as a Shopify merchant, can see reviews on your product and concentrate on making it better.
Trustpilot survey showed that close to 89% of buyers read reviews before purchasing the product. Earning customer trust has always been the most important thing, and what is the best to do that, if not by good reviews?
The best way to get customer reviews is to use a Shopify product reviews app. Review application has been a major deciding factor for many shop owners worldwide. There is much value in finding an app to do all the hard work of collecting reviews. Finding the perfect app for your shop can be quite hard but worry no more, as below are some of the best Shopify review apps for you.
Table of Contents
Top Shopify Product Review Apps
Though overlooked, Shopify product review apps are great tools to increase your brand awareness and give your customers a way to express their opinion on your item. By comparing the app store ratings, the number of reviews, and features, below are some of the best Shopify review apps you should have.
1. Loox Product Reviews & Photos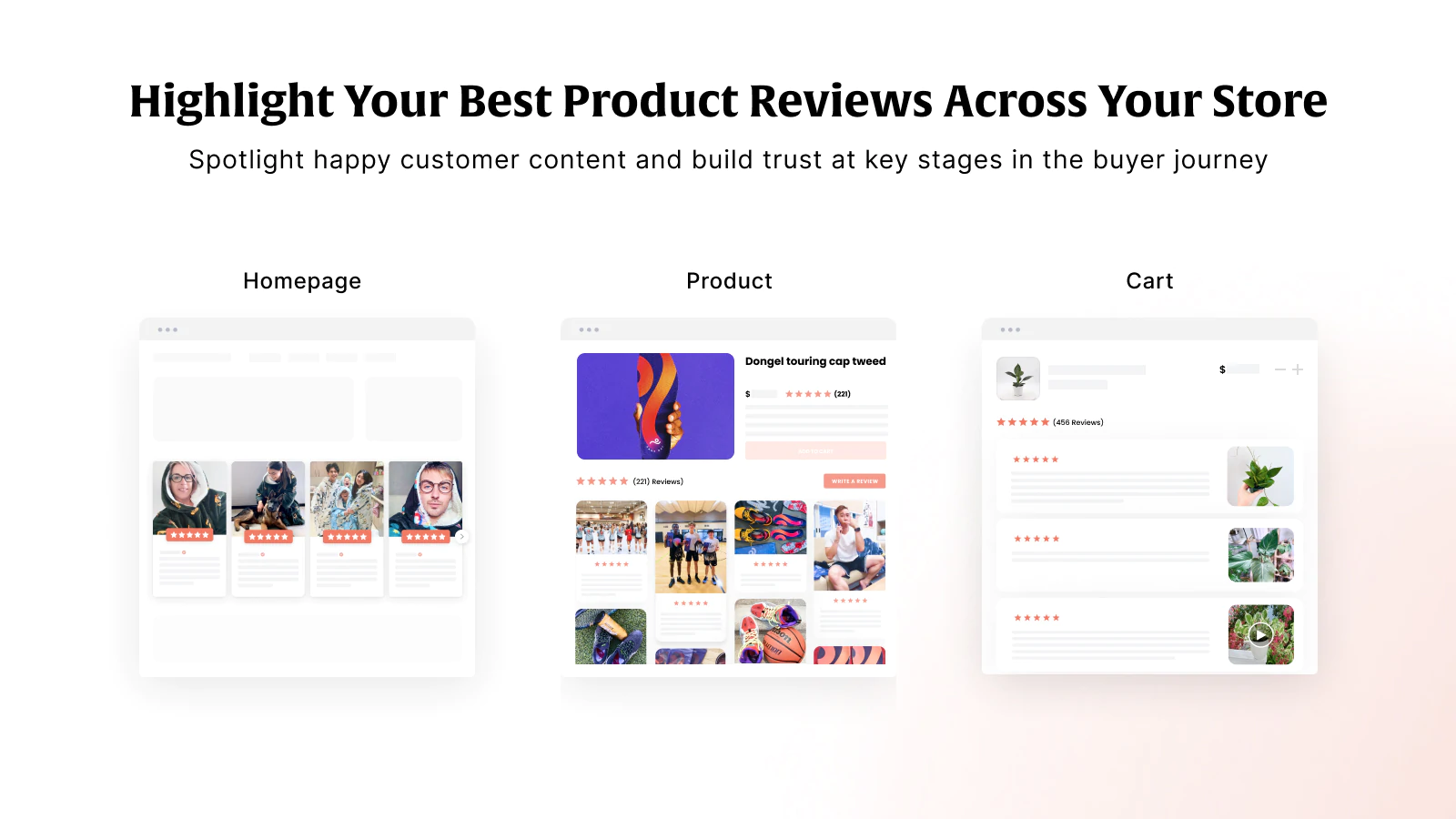 Look review app is the most popular Shopify review app among store owners. This is so as it enables you, as a store owner, too, by design gather product reviews from customers and display them across your online store. When the priority is to build credibility and improve trust, evidence of the advertised is crucial. It is among the few Shopify review apps allowing users to submit photos and video reviews.
It is based on this user-friendly interface that makes everything fall into place. Additionally, it is highly customizable, enabling you to choose the perfect review widgets without the computer coding nitwits. Loox enables you to display review carousels on your homepage and creates a dedicated review page to display reviews properly. Apart from the basic payment options, it offers a 14-day free trial, among other premium features.
2. Ali Reviews ‑ Product Reviews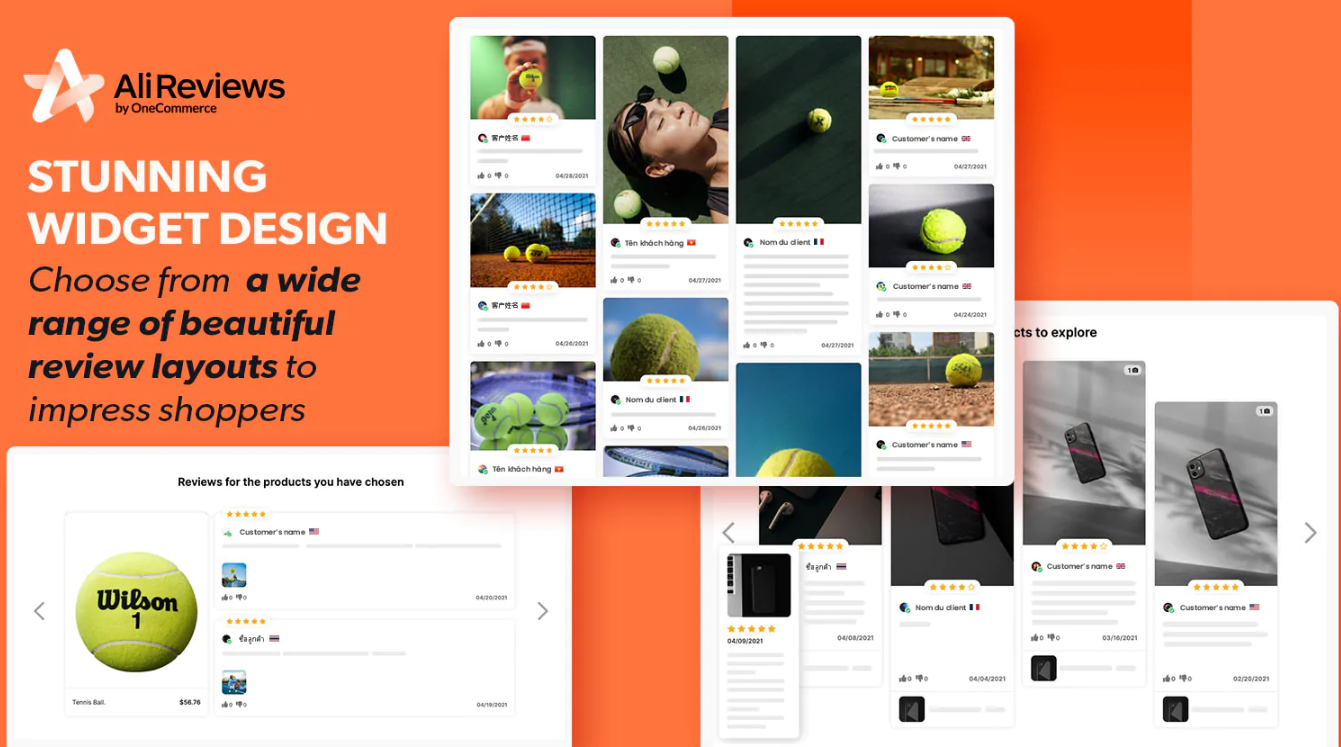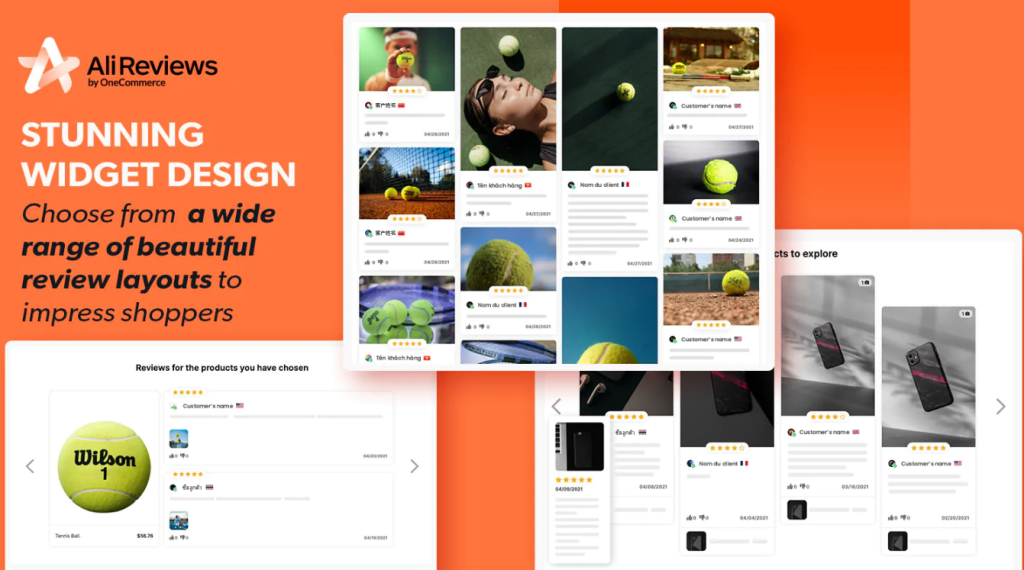 The highly rated product review app, Ali review app, is a professional and user-friendly product review app that allows customer reviews to be shown on all pages. This app product review allows anyone to pick their favorite review widget style. If that's not all, it sorts the reviews showing the customer the best review in the panel.
Ali reviews app understands that digital trends are vital; hence it contains features that aid in collecting reviews. Sending requests via emails and SMS, awarding photo reviewers, and importing reviews from different sources more efficiently allow for an effective review collection procedure. For a monthly plan of $9.90, you can display personalized reviews based on consumer information and behavior, thus increasing conversion rates.
3. Rivyo Product Review App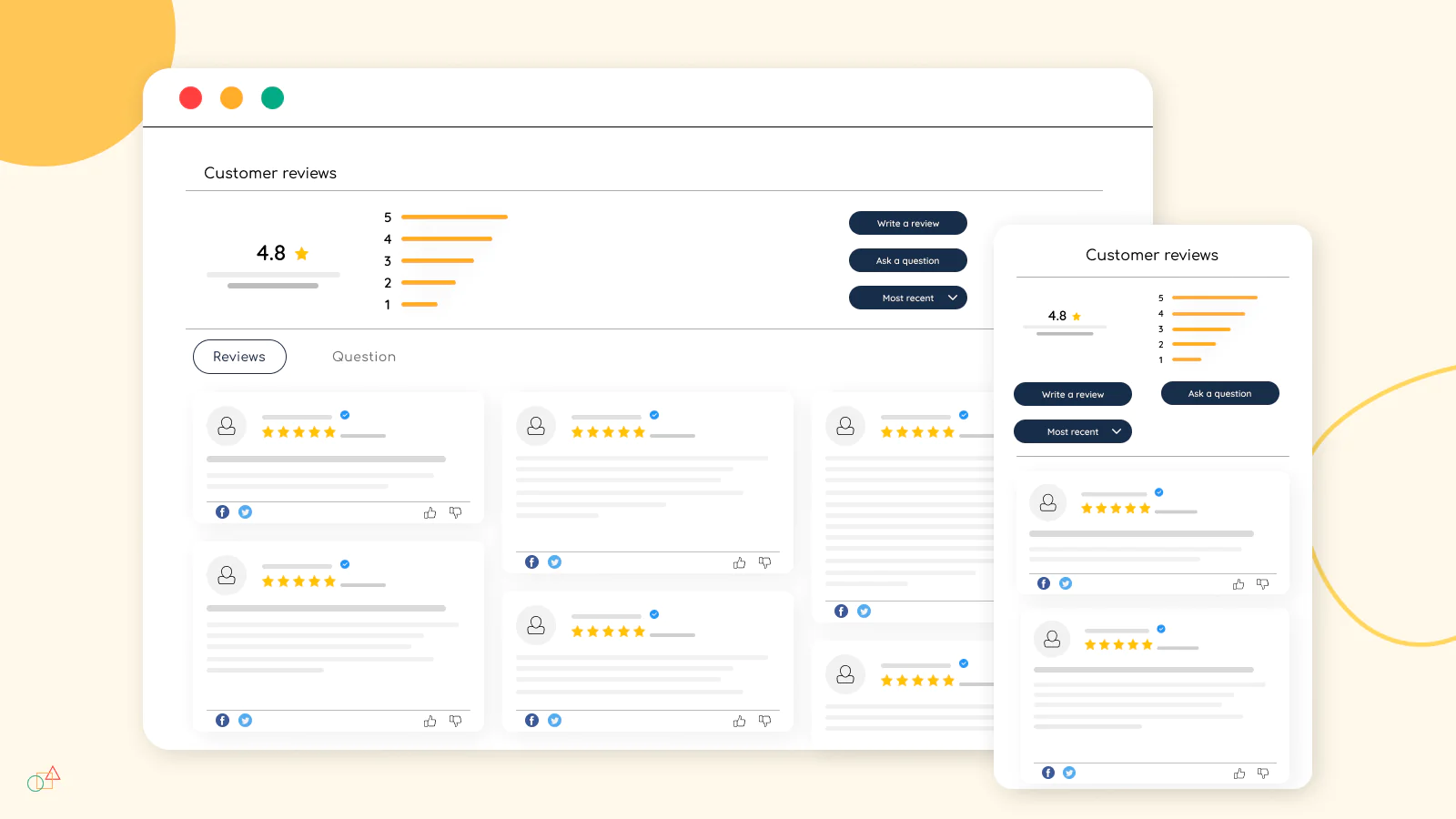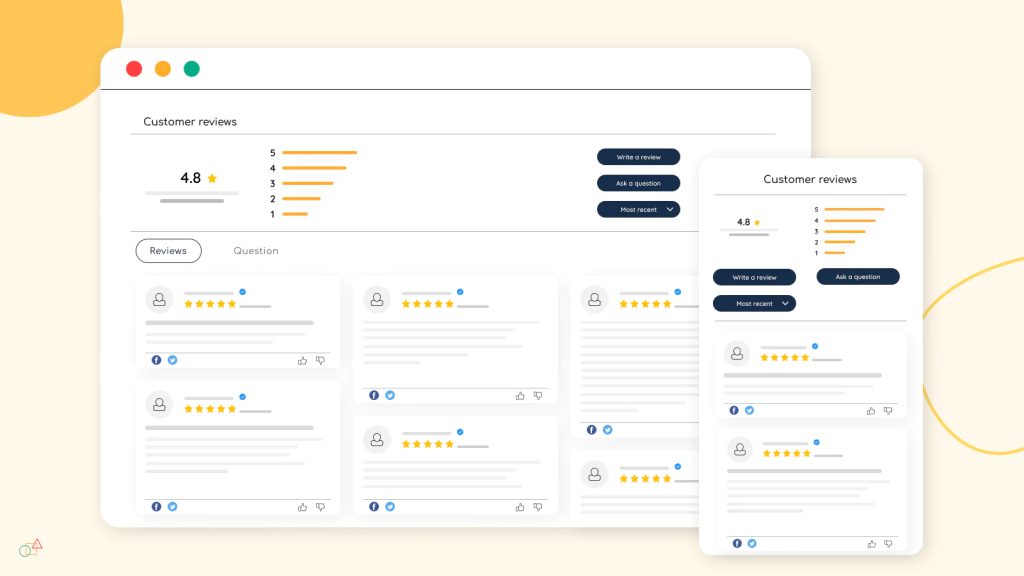 When simplicity and effectiveness are your things, then the Rivyo review app is for you. For dropshipping commerce businesses, Rivy allows for the importation of reviews directly from Aliexpress onto your store catalog. Heavy on the customization features, it allows one to create any congruent branding for the reviews on your store platform.
New to the e-commerce market platform? No need to worry about the tutorial as the Rivyo review app has a very easy-to-use interface that ensures anyone can efficiently use it. This is the best review to go for if your biggest need is to import reviews from the dropshipping company.
4. Stamped.io Review App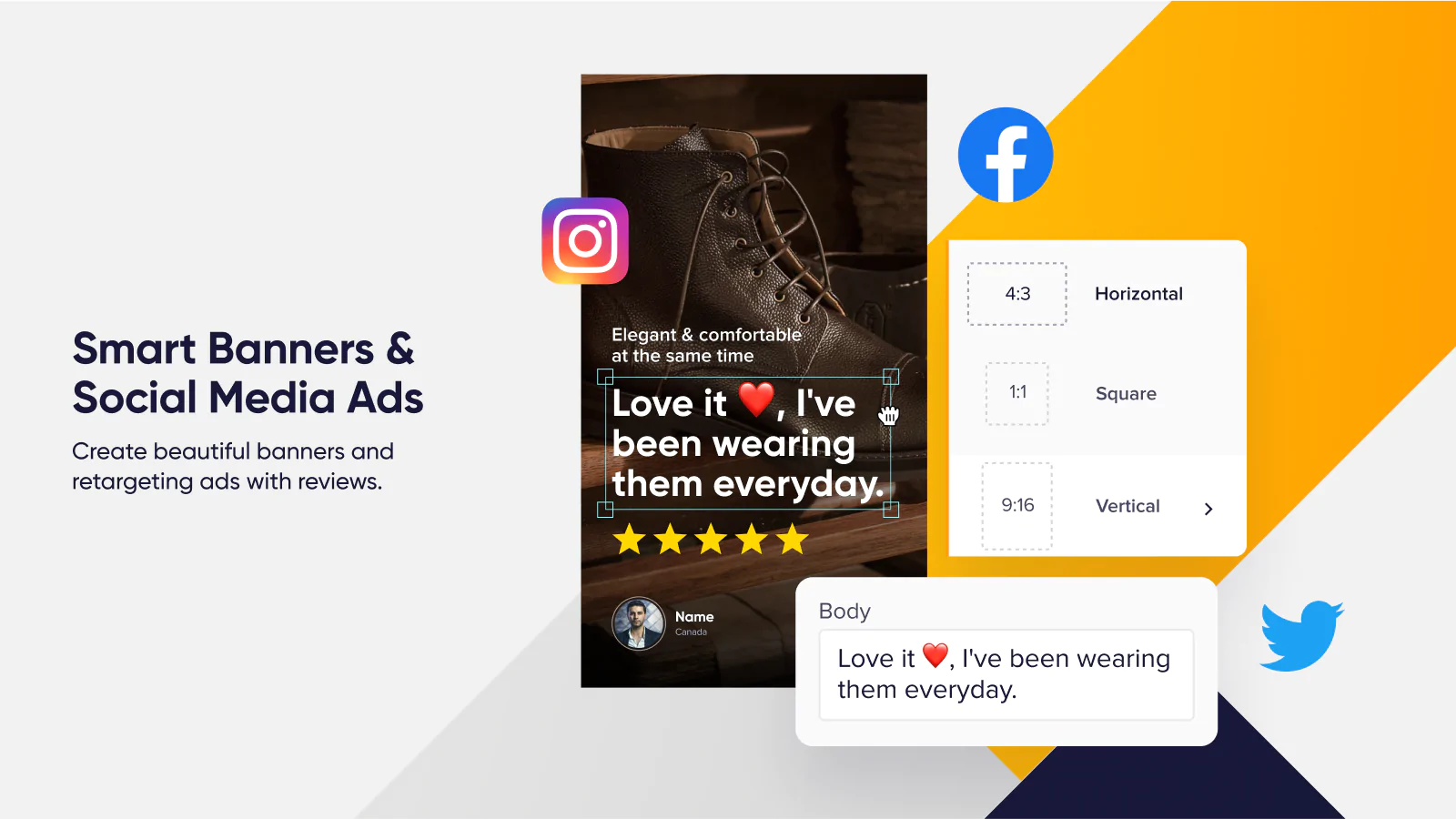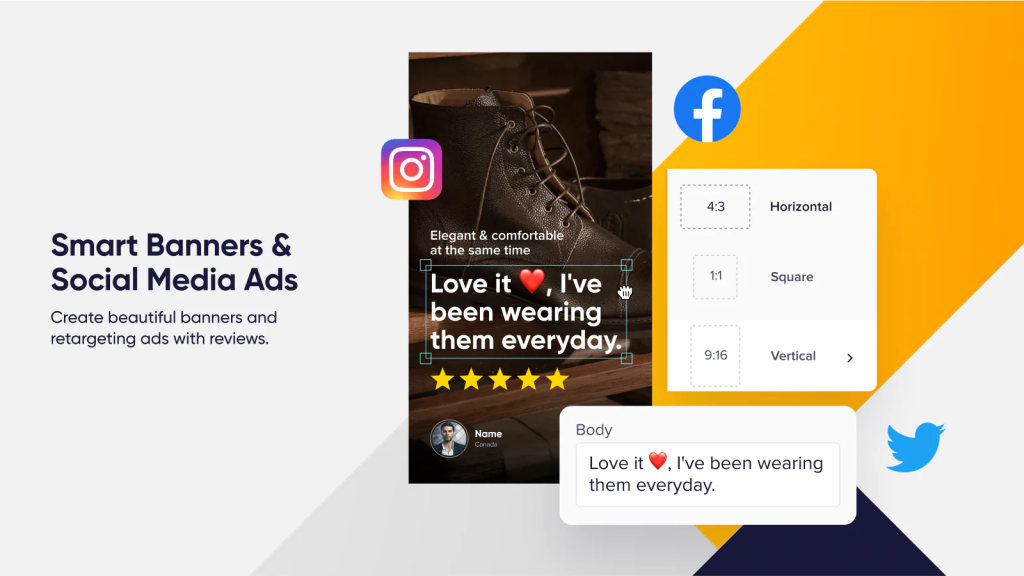 Stamped.io is a powerful product review app that many shop owners in the Shopify market want to have. The extension is not only wonderful but it is also packed with essential features and unique ones that help boost your sales. It is highly versatile as it collects reviews from multiple sources such as email, SMS, Facebook, Messenger, and Aliexpress. Additionally, this review app can display widgets allowing for occupation on the most visited shop sites.
Though review feedback is important, the public sometimes can engage in sensitive wordings that will cause a stir. The Stamped.io easily moderates reviews on a large scale, ensuring no codes are broken. The review app facilitates a shoppable gallery that generates UGC from Instagram and adds tags in Instagram, thus photo linking it to the website.
5. Growave Review App & Loyalty Program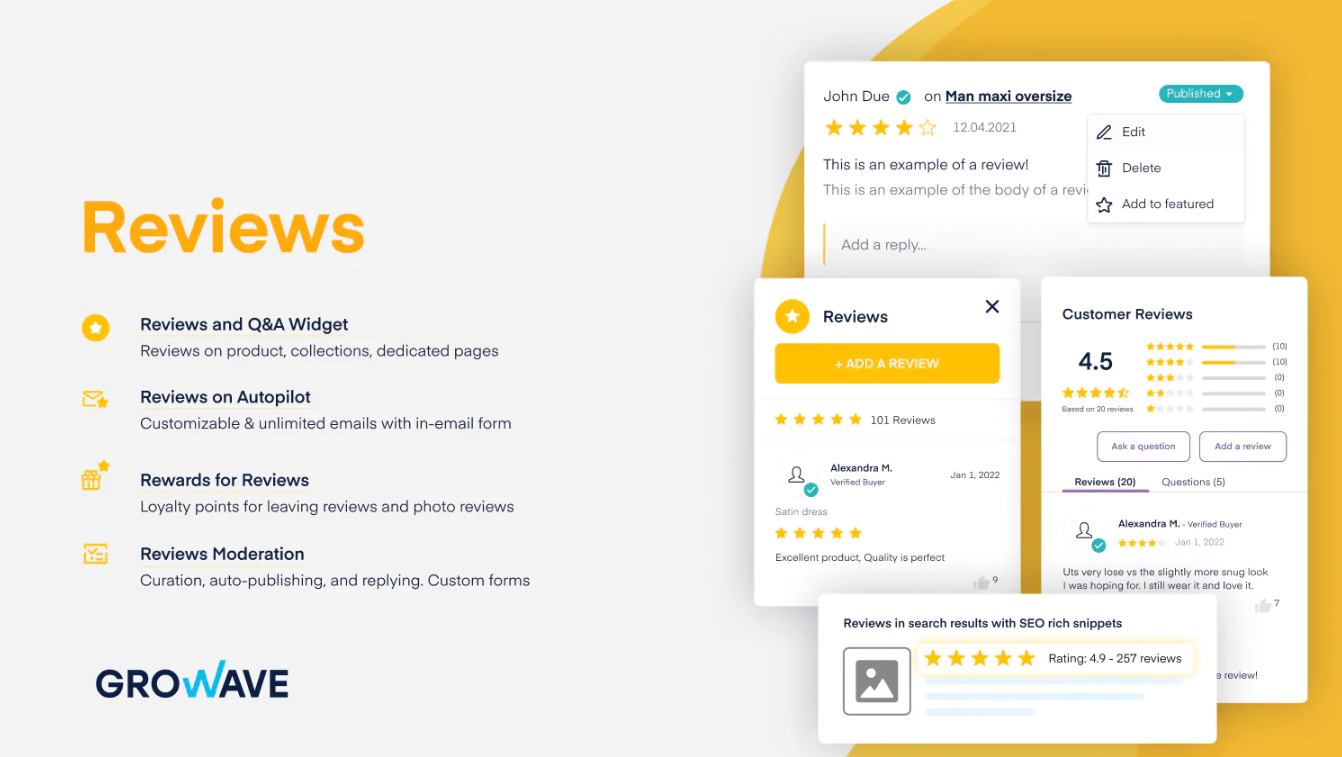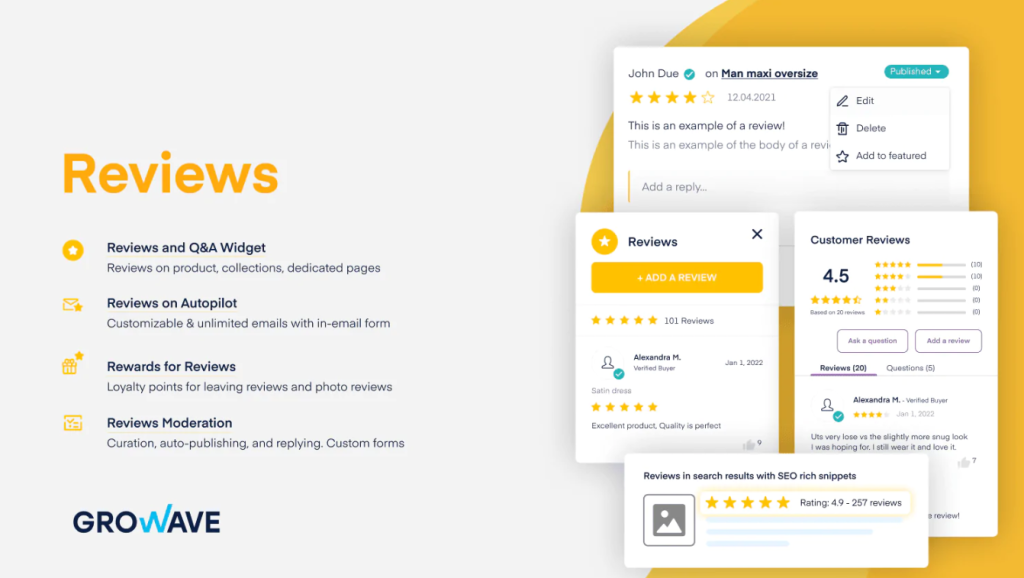 When customer engagement is a priority, the Growave app is the best app for you. The Growave review app facilitates customer engagement through its reward program. Moreover, buying and installing multiple products on your business site can save a lot of hassle. It is highly ranked among the best as it is fully integrated, thus creating an easy user interface. With the increased need for well-customized and perfect review widgets, Growave provides a highly dynamic app enabling you to design in the best way you see fit.
Do you have various sites linked to your shop, such as Instagram? Growave creates a shoppable Instagram gallery that easily identifies Instagram tag products and makes them easy to curate. This is the best app to use to improve sales through sturdy social media integration programs.
6. Yotpo Review App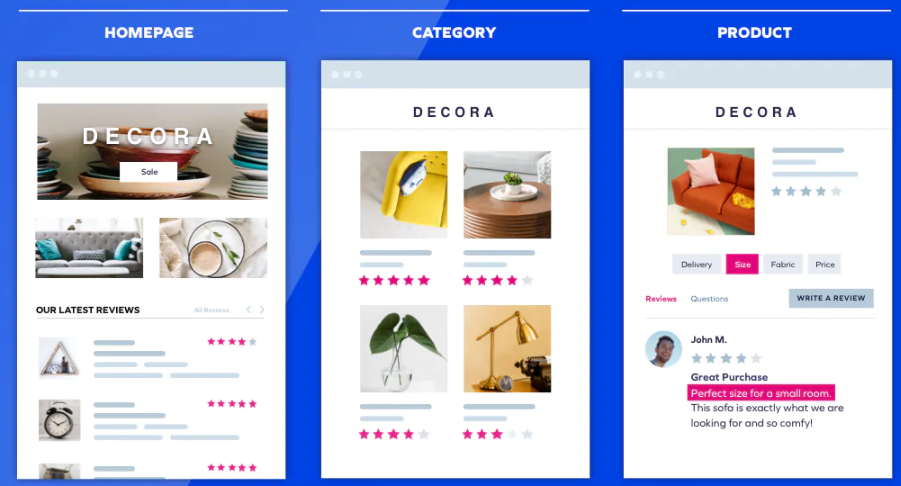 Big on the use, the Yotpo review app is among the oldest review app that you can use for your store. This well-known app is used by major e-commerce platforms such as Walmart and Facebook. Limited by its package prices, it is the best app you can use for your store. Packed with AI-driven analytic tools and support, Yotop allows its users to track reviews across the media platform, from emails to SMS.
The Yotpo product review app provides plenty of options for regulating reviews. It can also identify and flag negative reviews so that you can give them proper attention. Additionally, it is SEO-friendly with rich snippets and highly customizable for premium and enterprise plans. Big enterprises and businesses that need a fully featured, power reviewing tool with full support and customization abilities should try the top app.
Features To Look For In Shopify Review Apps
For a review app to be ranked among the best, there are things that it ought to perform very easily. For effective results, below are some vital characteristics that your review app should meet.
An easy-to-use interface – most Shopify owners are not tech geniuses; thus, an easy-to-navigate app is crucial to cater to all. Store owners will always go for the app they are comfortable using.
Photo and video review features – photos and videos have proven to make the marketplace reliable and captivating for anyone using the app. Shopify store owners should look for the best-displayed app to increase their review effectiveness.
Easily integrated with other apps – a good Shopify app should be able to be used with other apps such as Instagram and Facebook. An integrable app will make your work easier, as access to other marketing apps will be simple.
Customer support – all these things are technical, and thus failure or mishaps may occur. Opt for an app whose response team can help to troubleshoot, install and update the app details when needed.
Reward and loyalty programs – most customers tend to review products with a giveaway later on; thus, a reward program will earn you the diversities your business will need.
With that in mind, we've curated a comparison table below including the best Shopify apps to implement product reviews on your ecommerce store.
Best Shopify Product Review Apps Compared
Features
Loox
Rivyo
Stamped.io
Display reviews in multiple widgets
✅
✅
✅
Send review request emails
✅
✅
✅
Generate links for referring friends
✅
✖️
✖️
Rewards for reviews with photos
✅
✅
✅
Analytics
✖️
✅
✅
Custom survey forms
✖️
✖️
✅
Integrations
Google Shopping
Klaviyo
Amazon
AliExpress
Shoppable Instagram
Facebook
Google Shopping
Free plan
✖️
✅
✅
Final Thoughts
Having the ability to take your eCommerce store to greater heights has never been this easy. Little efforts, such as gathering and showcasing your product reviews, can come a long way in ensuring that your store changes. Review apps are the best solution to boost your conversion rates and grow trust with your new customers.
Though there are plenty of Shopify product review apps you can choose from, with some offering free business trials, it will be wise for you as a store owner to find the best review app to use for your enterprise.