Are you an e-commerce enthusiast looking for the best page builder apps for your Shopify store? Look no further! While GemPages is a popular choice, there are other incredible alternatives you should know about.
SeedGrow's blog post is your ultimate guide to the top 5 Shopify page builder apps that offer unique features. We'll take a deep dive into each app, key features, pricing plan, and unique selling points.
First on our list is PageFly, the Shopify page builder with over 7000 five-star reviews on the Shopify app store. Then, we have LayoutHub Easy Page Builder which boasts a vast collection of pre-designed templates to help you create a stunning website in minutes. And that's just the beginning! So stay tuned.
Table of Contents
1. What is a Shopify Page Builder App?
Shopify page builder apps are designed to make it easier for online merchants to create and customize their online store's pages, without having to rely on a professional web developer. These apps provide a simple and intuitive drag-and-drop interface that allows for easy customizations of content, layout, design, and features, making it easier for businesses to sell their products online.
2. Why Use A Shopify Page Builder App?
Easy to use: With a drag-and-drop editing feature, you can easily add elements from an app library and customize them to fit your brand's look and feel.
Fully Customizable: With a vast library of elements and the power to customize each one to your liking, the possibilities are endless.
3rd Party Integration: Building a website can be a complicated process, but thankfully, top page builders offer integrations that make it a breeze to add the essential 'third-party elements' your site needs.
Professional Support: If you encounter any issues during this process, you can rest easy knowing that the best apps also offer professional support via email, live chat, and telephone so that you can ensure that your website is not only functional but also optimized for success.
Boost UI: Almost half of all people said that a website's appearance is the most crucial factor in determining its credibility. By improving your website's design with Shopify page builder apps, you can create a better user experience, leading to a decreased bounce rate and increased conversion rate.
3. Key Attributes for An Optimal Shopify Page Builder
As an online entrepreneur, the last thing you want is to be weighed down by a clunky page builder. After trying out countless page builders for Shopify, we've narrowed down the top must-have features:
effortless drag-and-drop page building,
a seemingly endless library of elements,
a wide selection of professional themes,
seamless integration with other apps,
and even expert-level editing capabilities for those who want to take their pages to the next level.
Additionally, it's not just about aesthetics – you need to think about SEO, copywriting, image quality, device compatibility, and more. Incorporating these below elements will make a Shopify page builder among the top list:
customizing ranking factors,
optimizing for SEO,
seamlessly integrating a Shopify-format interface with image compression and fast loading speeds,
adding a personal touch with dynamic text and geolocation features.
We've done the research and found the top 5 Shopify page builder apps besides Gempages that offer all these nice-to-have features.
4. Top 6 Shopify Page Builder Apps
GemPages Page Builder is a leading Shopify page builder app that has been designed to help businesses easily create and customize their website pages. It boasts a range of key features that enable users to quickly build stunning and responsive pages without any coding knowledge.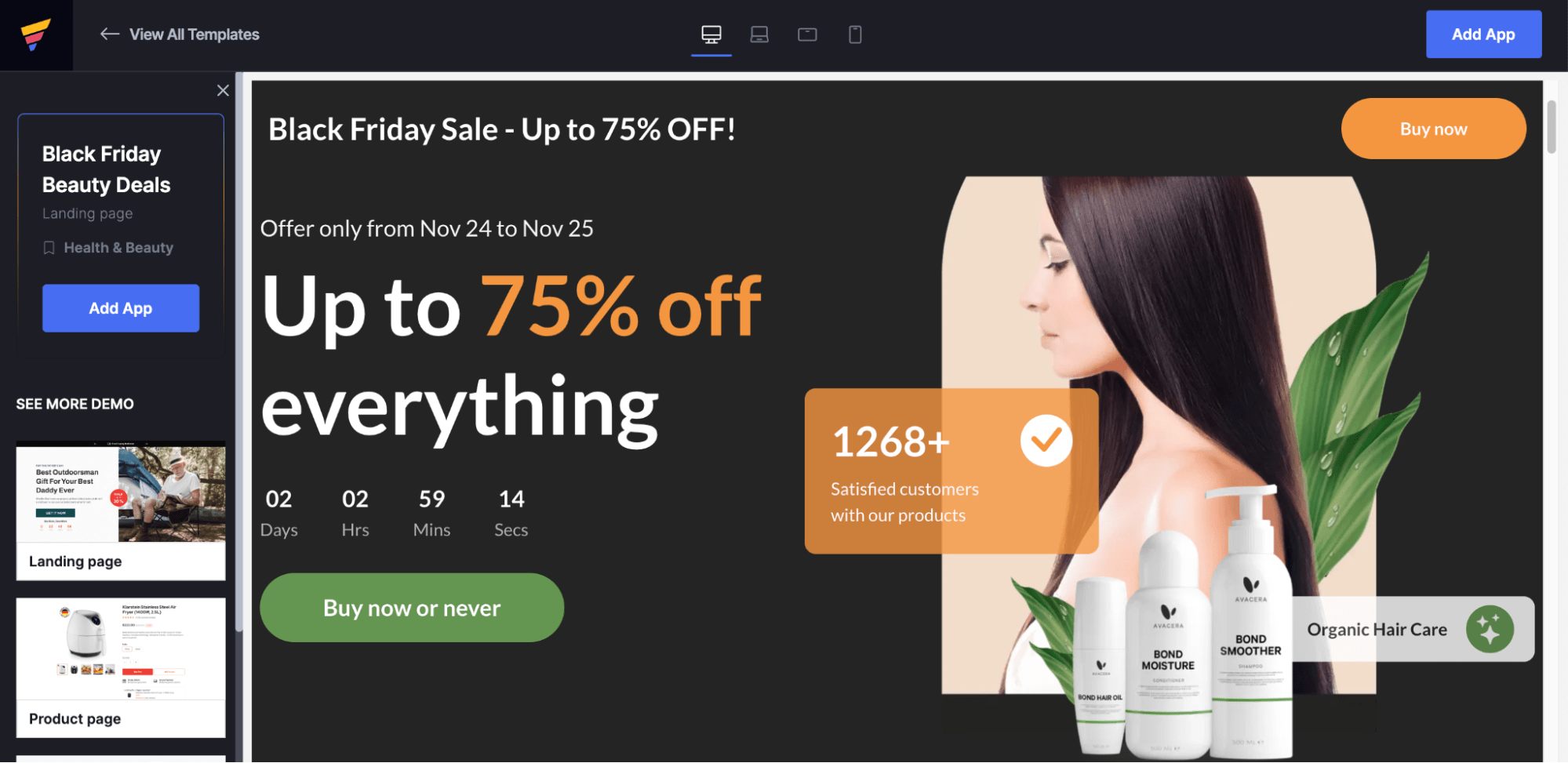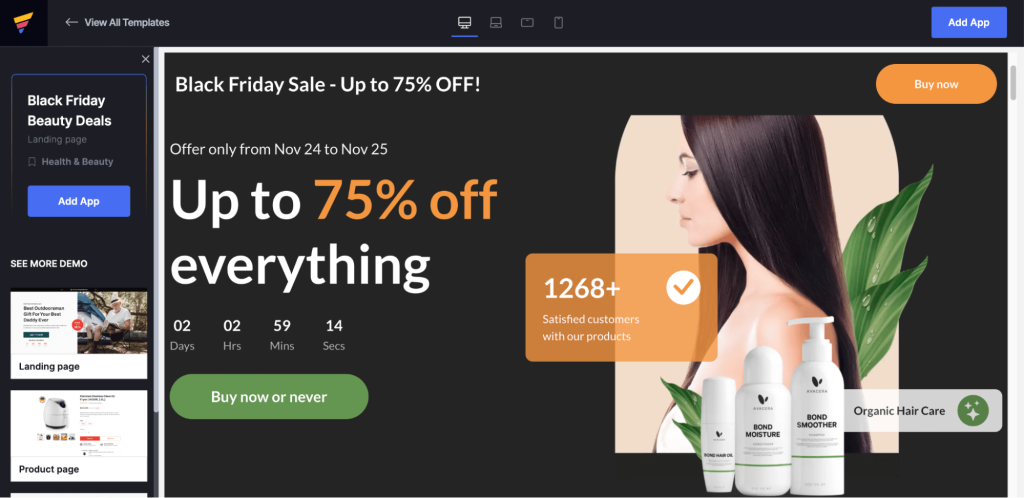 Key Features:
Drag-and-drop editing
80+ polished templates designed by eCommerce CRO experts, optimized for every niche
430+ blocks covering all essential functions
Dynamic blocks
Advanced integrations with top apps
Comprehensive support on all channels
Pricing:
The app offers a variety of pricing plans to suit different business needs and budgets, ranging from a free plan to an Enterprise plan.


Highlight point:
Its user-friendly interface and the ability to create unlimited pages without any hidden fees or limitations. Overall, GemPages Page Builder is a top choice for Shopify store owners looking for a reliable, intuitive, and affordable page-building solution.
PageFly is a popular Shopify page builder app that offers a range of great features for creating stunning pages and websites in no time.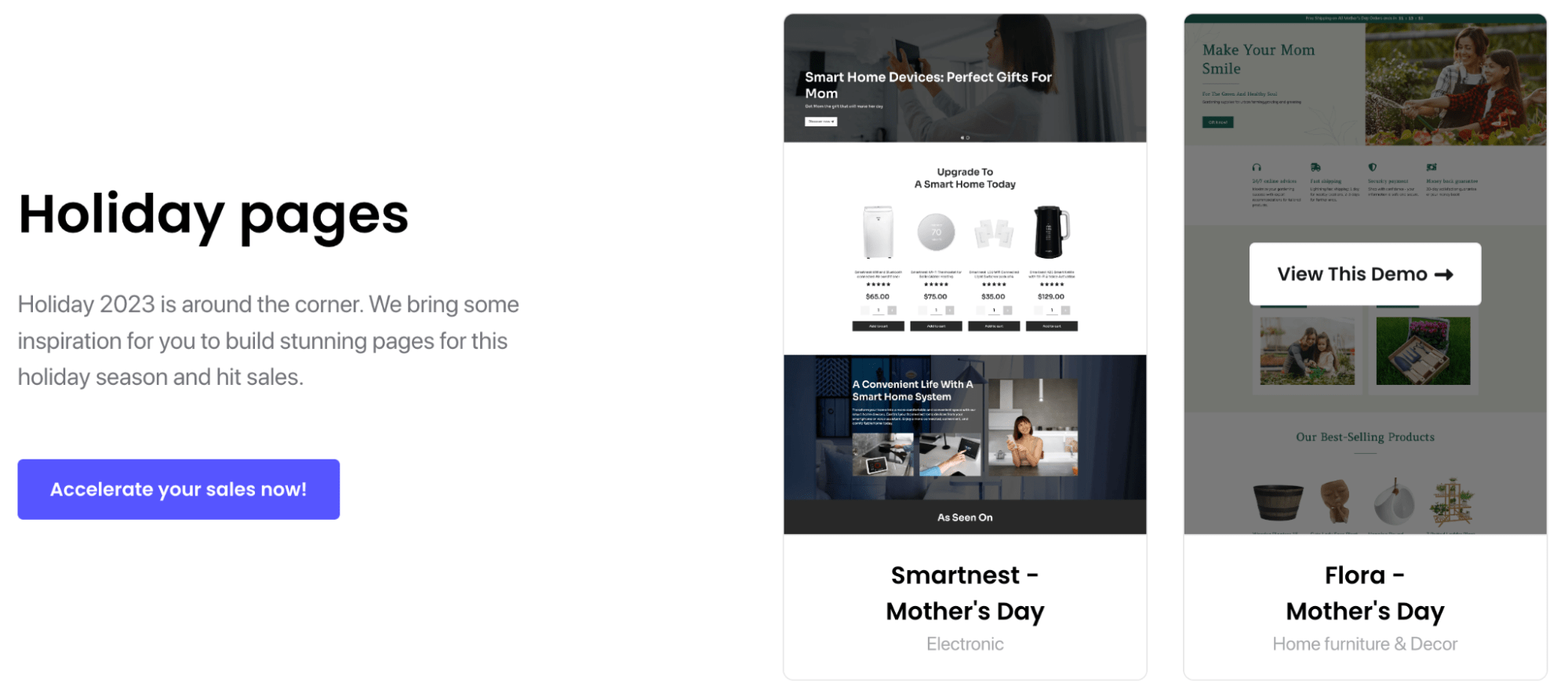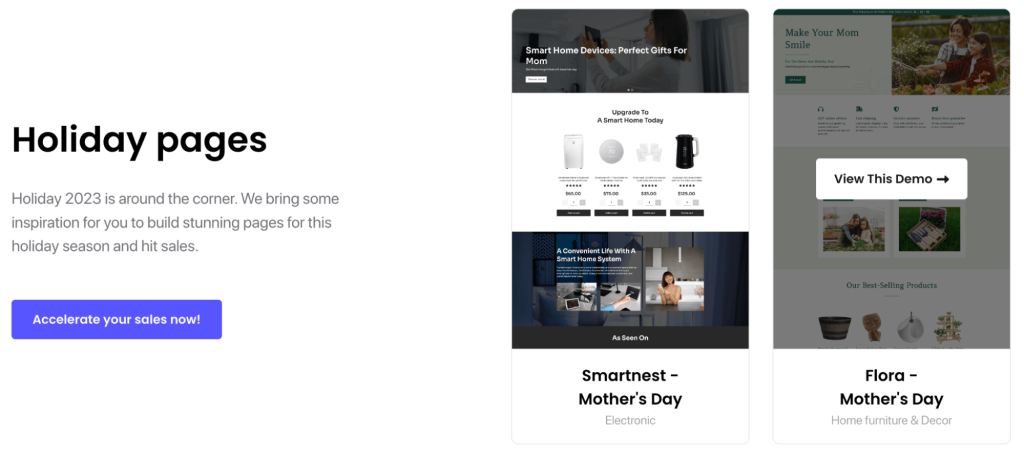 Key Features:
Responsive web design
Supports 3D images as one of their product media types
Add custom fonts and colors
Use pre-designed elements or create your own
Add animations, videos, and more
Offer a "section reuse" option, which allows users to save and reuse sections from one page to another. This can be a real-time saver when building multiple pages with similar designs.
Pricing:
As for pricing plans, PageFly offers a free version with limited features and two paid plans ranging from $24 to $165 per month, depending on your number of published pages/sections.


Highlight point:
The uniqueness of PageFly is its focus on customization options, making it one of the best Shopify page builders for building unique pages and online stores.
LayoutHub is one of the best Shopify page builders on the market, providing a simple yet powerful solution for merchants to create highly customizable pages with ease.
Getting Started With LayoutHub – Overview
Key features:
An extensive range of pre-built sections and page templates
Complete control over on-page SEO meta descriptions, titles, and alt-tags
The ability to add custom code
Access to useful widgets and add-ons such as Countdown Timer, Google Maps, and Social Sharing.
Pricing:
LayoutHub's pricing plan is affordable, starting at $14.99 per month. You can get access to customization on unlimited pages for $59.99 per month.


Highlight point:
Its ability to provide a seamless experience with the Shopify platform allows you to manage all of your pages and products in one place. With LayoutHub, you can easily and quickly create professional-quality pages that drive engagement and revenue for your online store.
Shogun Landing Page Builder is one of the most popular Shopify page builder apps on the market, with over 12,000 businesses using it to create customized landing pages for their stores.
Key Features:
Global Styles that make all adjustments in a single place apply to each page
Image compression and lazy loading tools
Pre-designed templates
Custom blocks
Image Editor
A variety of integrations with popular Shopify apps, such as Yotpo and Google Analytics.
Pricing:
Shogun's pricing plans start at $39 per month for the Basic plan and go up to $499 per month for the Multi-store plan. This pricing structure also includes access to Shogun's premium features, including a/b testing and a custom checkout builder.
Highlight point: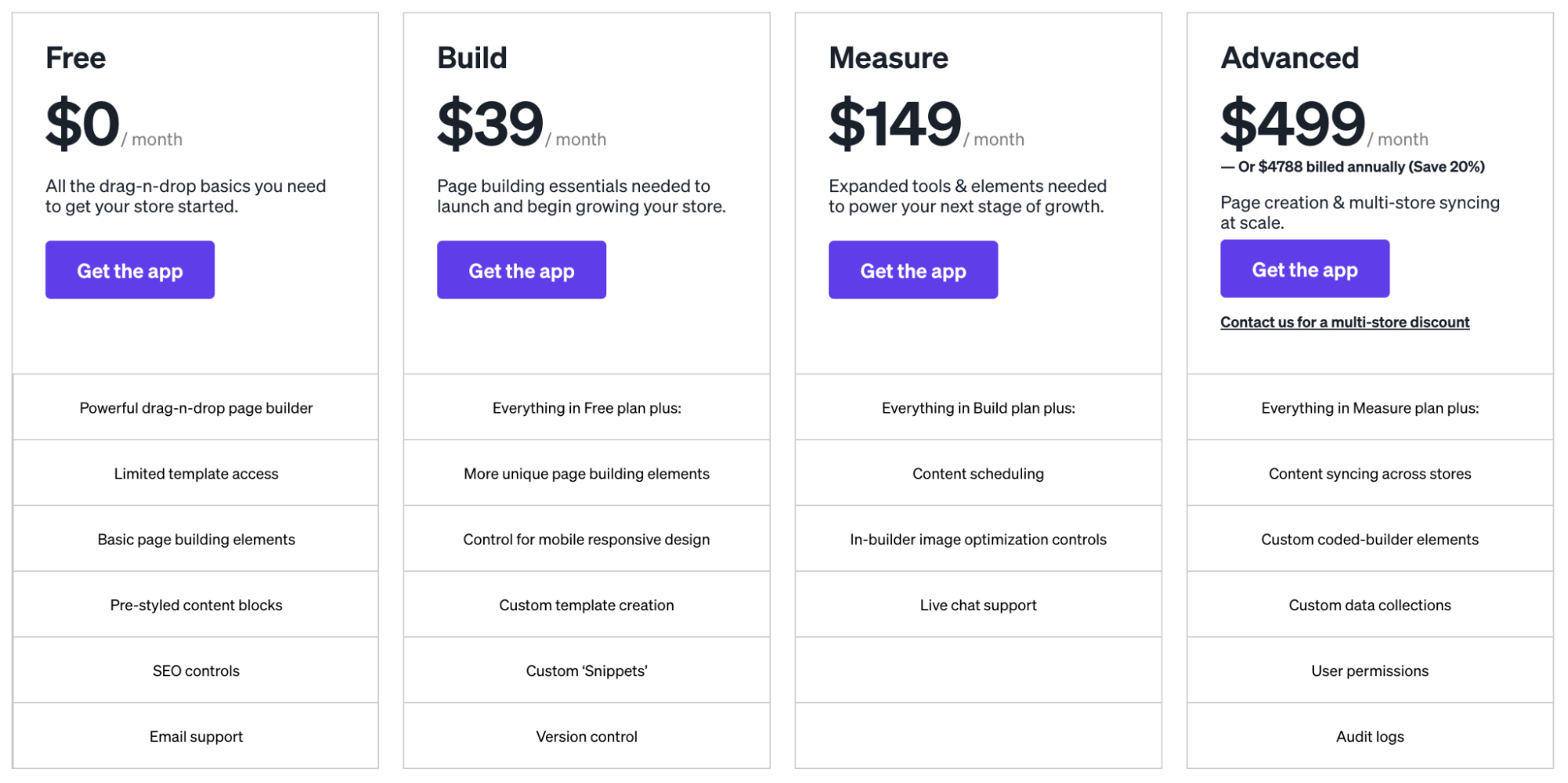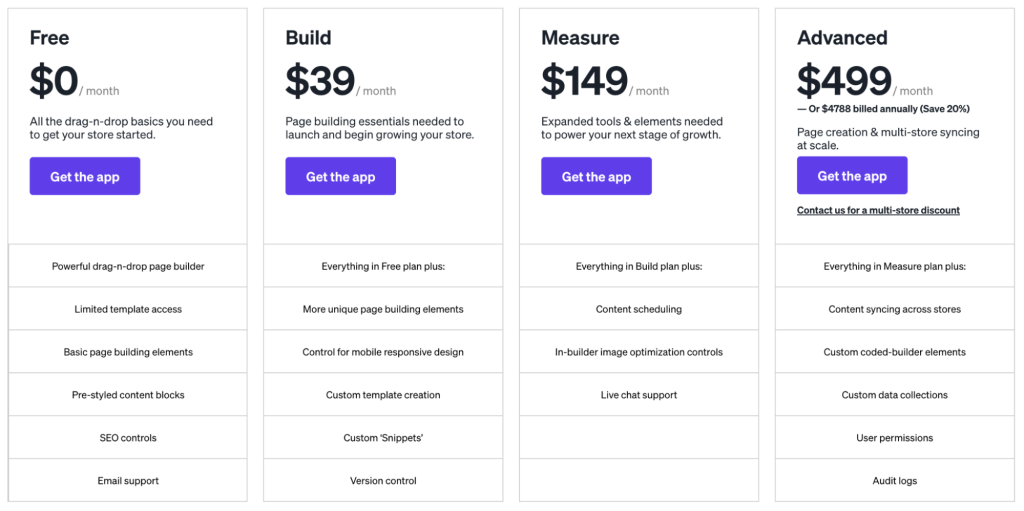 Its focus on customization allows users to make their landing pages stand out with unique designs and features that align with their brand.
EComposer is a powerful Shopify page builder that allows users to create and design unique and engaging pages without any coding knowledge required. Its drag-and-drop interface and easy-to-use tools make it a great option for businesses of all sizes.
Key features:
A library of mobile-responsive pre-designed templates
A library of 250+ blocks
Responsive design options
The ability to add custom code for complete flexibility.
Pricing:
Pricing plans for EComposer are reasonable and competitive. There are three plans available, starting at $16 per month for the Standard plan, $32 per month for the Pro plan, and $124 per month for the Premium plan. Each plan includes a free trial period, so users can try out the platform and see if it's the right fit for them.


Highlight point:
EComposer's strength is its innovative approach to designing Shopify pages. It provides a hassle-free and intuitive way to create stunning pages. The platform is constantly updating its features to keep up with the latest trends and technologies, ensuring that businesses always
Automizely Page Builder is one of the best Shopify page builders available in the market that helps you create custom landing pages, product pages, and blogs effortlessly.
Key Features:
Numerous ready-made templates and responsive design help create mobile-friendly pages that look great on any device.
Provide a range of advanced features such as a countdown timer, social sharing buttons, and product reviews that can help you drive conversions and increase sales.
AI-powered product recommendation system that suggests products based on the previous purchase history of your customers. This can help you increase cross-selling and up-selling opportunities.
Pricing:
With its powerful features and affordable pricing, Automizely Page Builder has gained a lot of popularity among small and medium-sized businesses.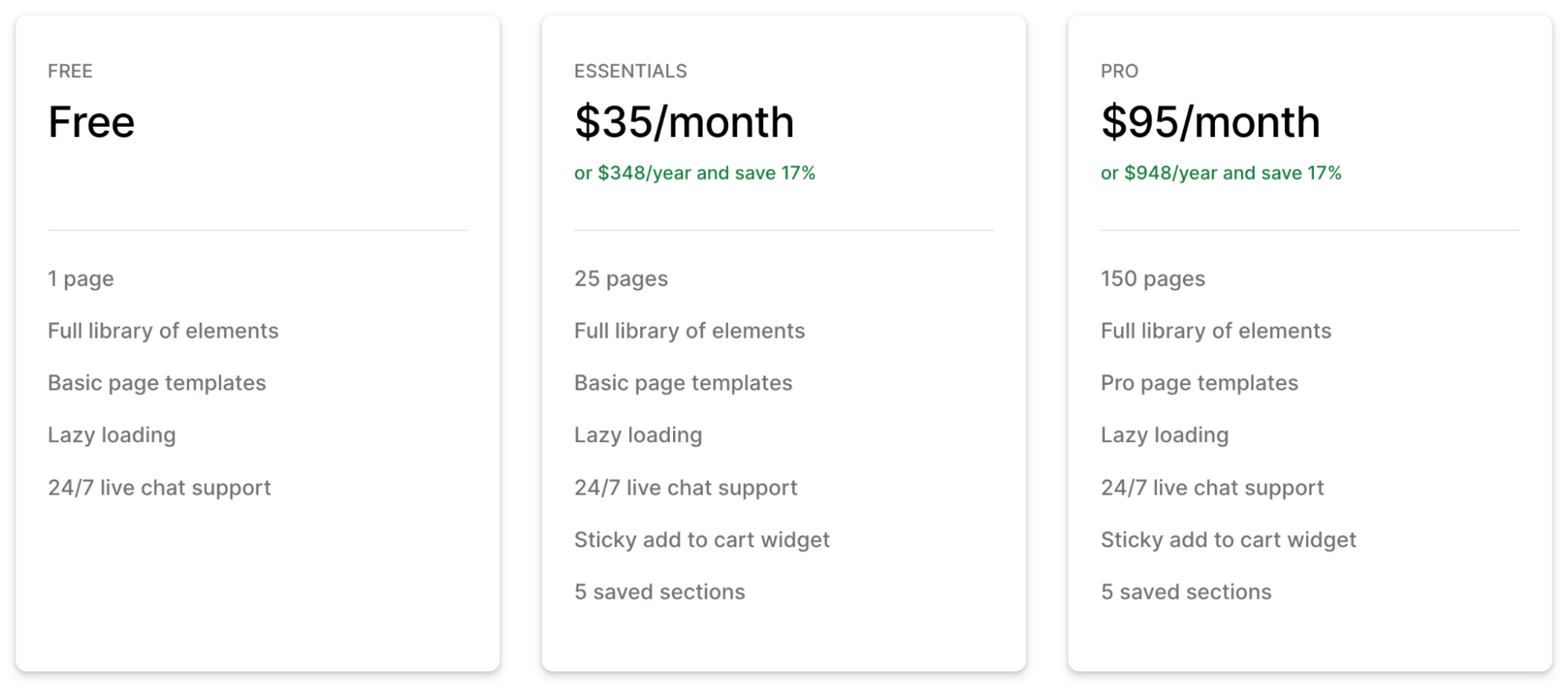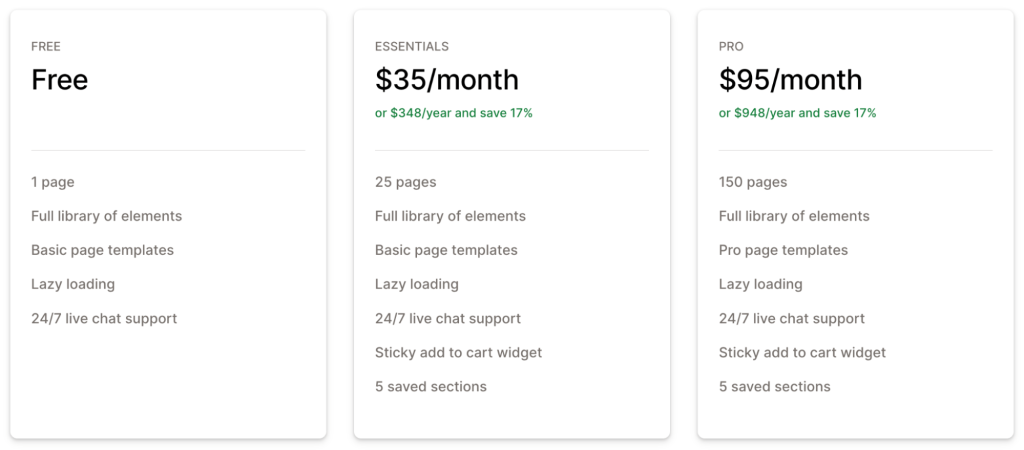 5. Conclusion: Which is the Best Shopify Page Builder App?
With these six amazing page builder apps, you are sure to find the perfect fit for your business. Remember, the only way to know for sure is to try them out for yourself, but here are a few tips to help you get started:
If you want the best all-around Shopify landing page builder, look no further than PageFly. With a free trial and an extensive library of templates and elements, this reasonably-priced app is a great choice for any store.
For those just starting out, GemPages is the perfect option. It's budget-friendly, easy to use, and offers features to help you stand out from the competition.
And if money is no object, Shogun is the ultimate page builder app for you. With its stunning user interface and a plethora of features, there's no limit to what you can achieve.