Have you ever worried about losing all your hard work on your Shopify store? If you are a Shopify store owner, it's important to have a backup Shopify store plan in case anything unexpected happens or changes.
Backing up your Shopify store can help you restore your website to its best version, or even migrate to another platform without losing your hard work. Plus, it can protect you from potential issues like server crashes, accidental file deletion, or even phishing attacks.
Fortunately, backing up your Shopify store is not difficult.
In this post, we will explore some of the best strategies and applications available for backing up your Shopify store. So, let's get started!
Table of Contents
Method 1: Manually Backup Shopify Store
Manual backup is recommended for store owners with limited products. To back up your Shopify site, follow these 3 simple steps:
Step 1: Export Your Store Data
The first step in creating a backup of your store is exporting your essential data, especially product data and customer data.
Export product data
Log in to your admin dashboard and select "Products" on the left panel.
Click on the "Export" option in the top right corner
Then choose options "All products" and "CSV for Excel, Numbers, or other spreadsheet programs".
Finally, click the "Export products" button.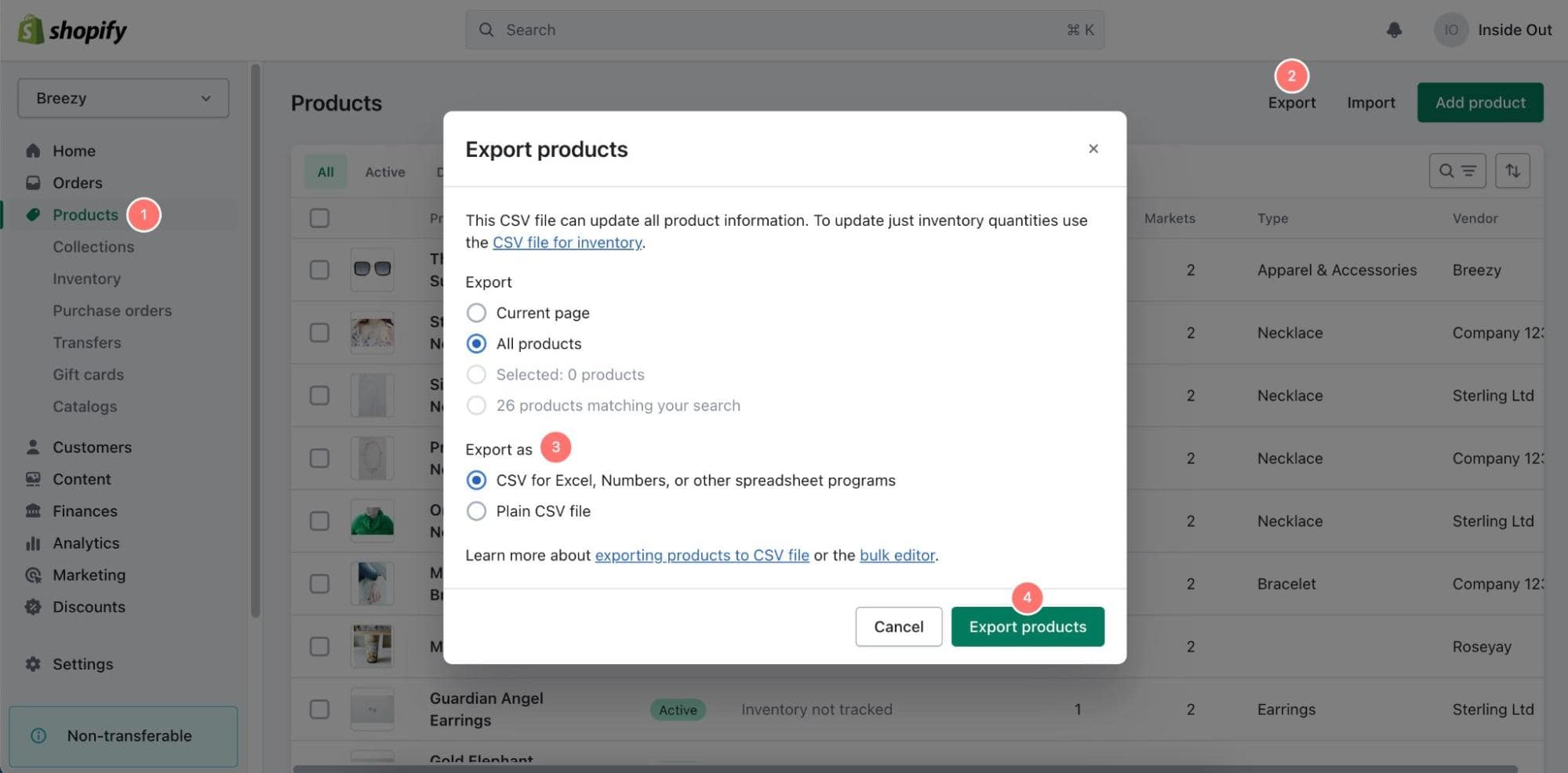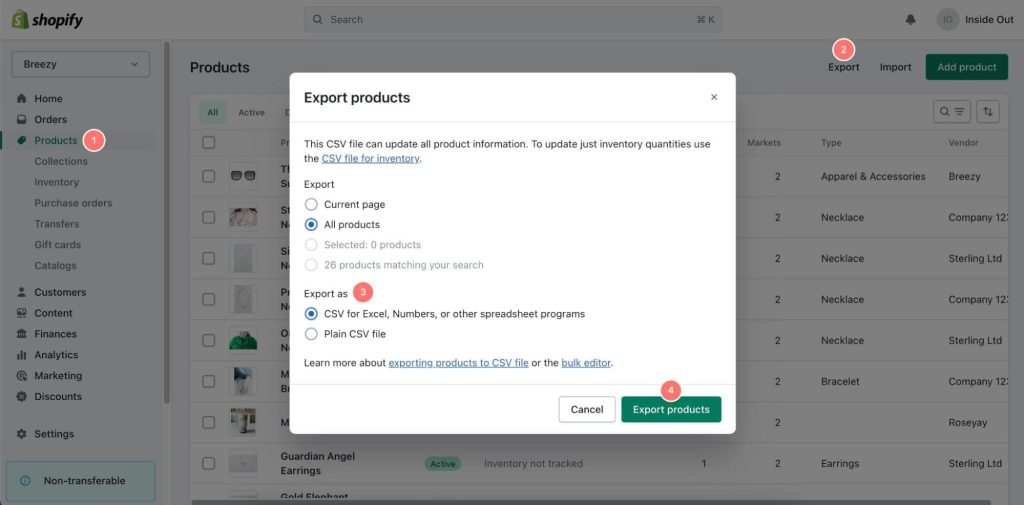 Export customer data
Similarly, go to your admin dashboard and click on the 'Customers' tab on the left panel.
Click on 'Export' to begin the process.
Shopify will send you a CSV file to your email address. Download it and save it on your local machine.
Keep in mind that you can only export certain parts of your store, not everything.
However, you can export the following information:
Listed products
Customer information
Orders
Gift cards
Store theme
Discount codes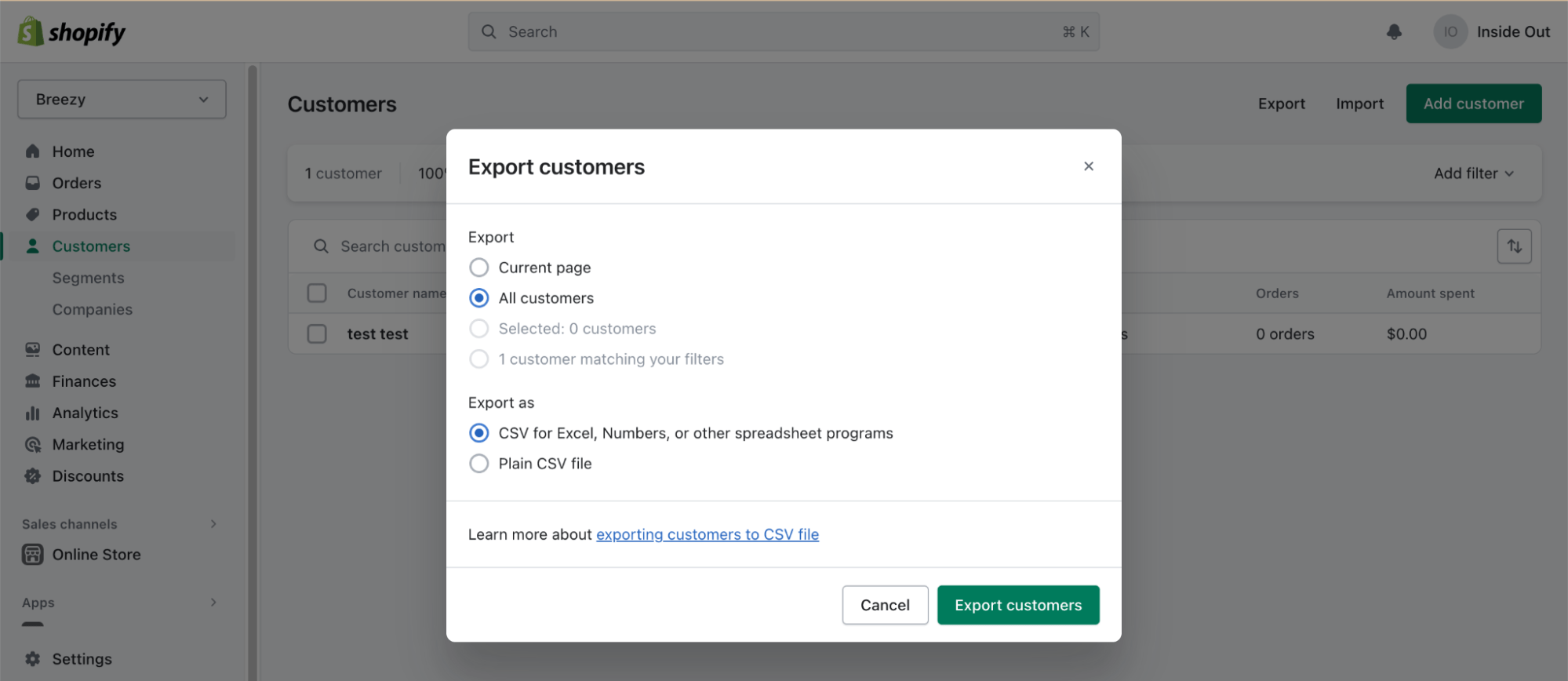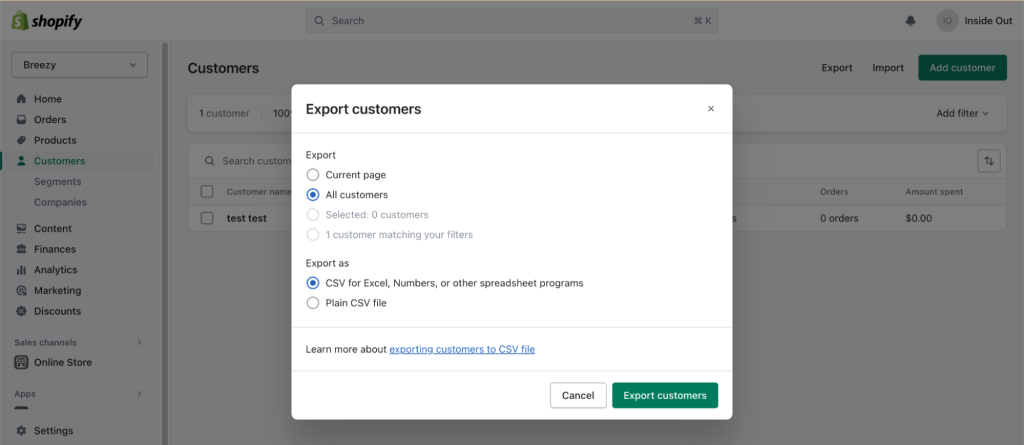 Notes
Once you export your data, you won't be able to undo it, so be sure that's what you want to do before proceeding.
Avoid sorting your CSV file as it could cause some product and URL variations that may not work for you. If you import a sorted CSV file back into your store, it could overwrite some of your existing data and cause some issues.
After you export your CSV file, Shopify will send it to your registered email. From there, you can easily download it from your inbox.
Step 2: Keep Your Exported File Safe and Secure
Great job on exporting your file and getting all the relevant data you need! Now, let's make sure we keep it safe and secure.
One way to do this is by storing your exported file in a password-protected folder. This will help prevent unauthorized access and ensure that only you and those you trust have access to your data.
It's also important to create backups of your store regularly, like every two weeks or whenever significant changes are made. This way, you can easily restore your store to the latest version in case anything goes wrong.
By taking these simple steps, you can ensure that your data is always safe and secure. Keep up the good work!
Step 3: Import Your Exported File
If you've manually backed up your store data, then you're one step closer to recovering everything you've worked so hard for.
To get started, just log in to your admin dashboard and click on the Products tab (if you want to import product data) or Customers tab (if you want to import customer data).
Next, click on the Import tab at the top and select the CSV file you want to import from.
Finally, click the Upload and continue button, and voila! Your products are imported.
Method 2: Backup Shopify Store with App
Manual backups can take up a lot of time and resources, so it's best to use an app that can handle the job for you.
If you're a busy entrepreneur with a lot on your plate, the backup Shopify store app is a great option for you. There are many apps available in the Shopify app store that can help you manage and protect your data as well as backup Shopify store.
Some of these apps are incredibly user-friendly, allowing you to back up your entire store with just a few clicks.
To help you get started, we've compiled a list of apps that can assist you in backing up your Shopify store.
1. Talon Backups


One of the coolest things about this app is the restoration browser. You can easily see all the previous versions of your backups, from products and collections to orders and blog posts.
With the comparison interface, you can compare your past backups with your current setup and restore any of them with just one click!
Pros:
Recover an entire backup category with just one click
Choose which data the app can access
Track any changes made to your store with the audit trail
Cons: The only downside is that it might be a bit pricier than other apps in this list.
Pricing:
The pricing starts at $9 per month. But the good thing about Talon Backups is that it doesn't limit the number of monthly orders you can have.
The pricing for Talon Backups mainly depends on the number of products you have published on your store. With the Basic Plan, you get automated daily backups, backups of theme files and blog posts, on-demand backups, and one year of history.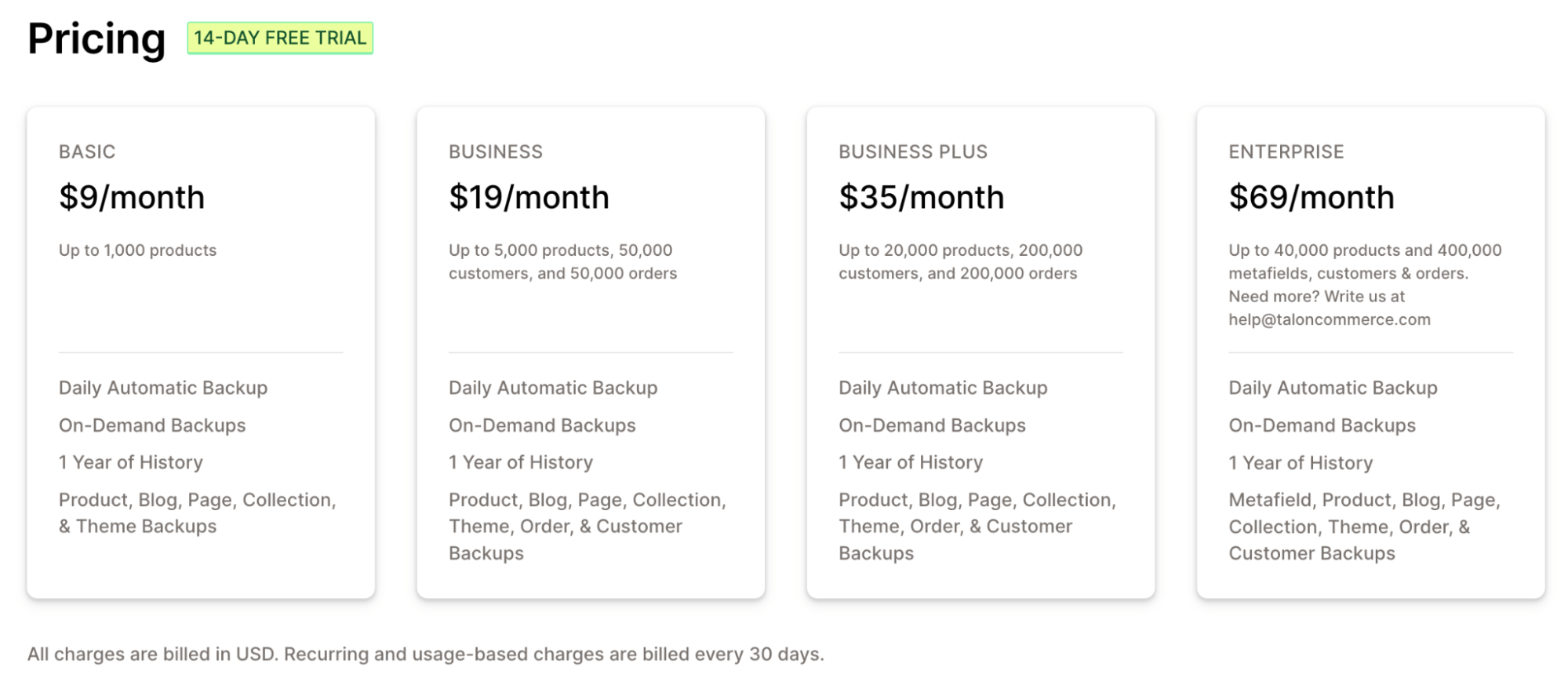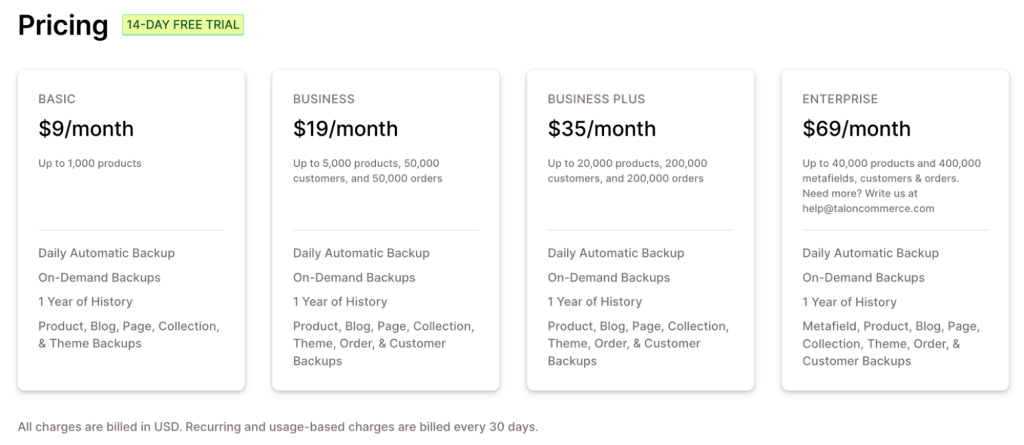 If you need more features, Automatic Backups has some more expensive plans that start at $19, $35, or $69 per month. Check out the image above for more details.
2. BackupMaster: Backup & Clone


If you are looking for a Shopify store backup app that is GDPR-compliant and secure? Look no further than BackupMaster. It's the perfect solution for backing up all your important data, including products, customers, orders, blog posts, pages, theme files, policies, and locations.
Pros:
All 21 reviews of this Shopify app are five stars
You can start a new backup at any time, making it super easy to use.
Cons:
It lacks some advanced features.
Pricing:
With the Starter Plan, businesses can benefit from this service for just $4.99 per month. This plan is designed for businesses with up to 3,000 products and 100 orders per month.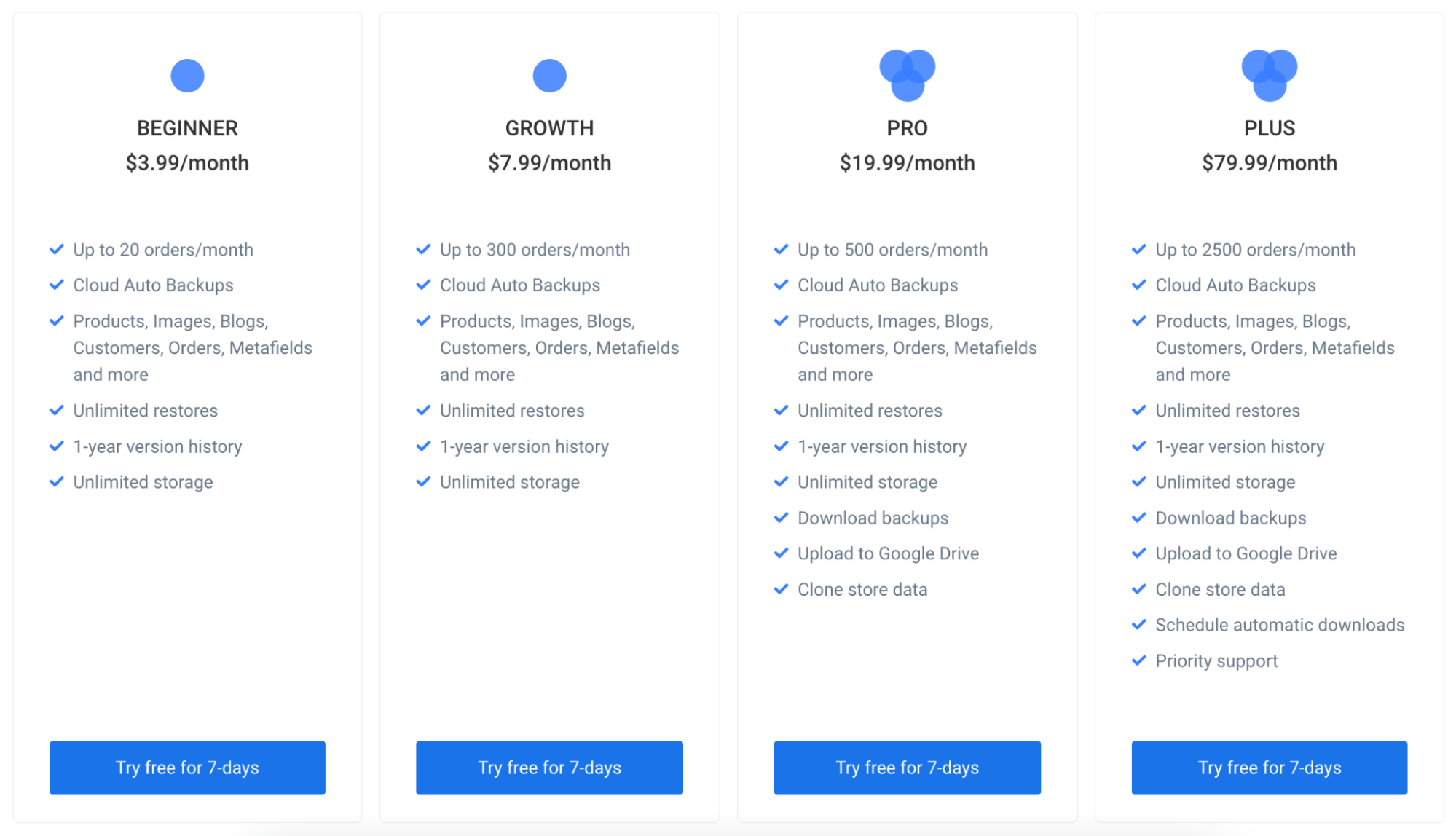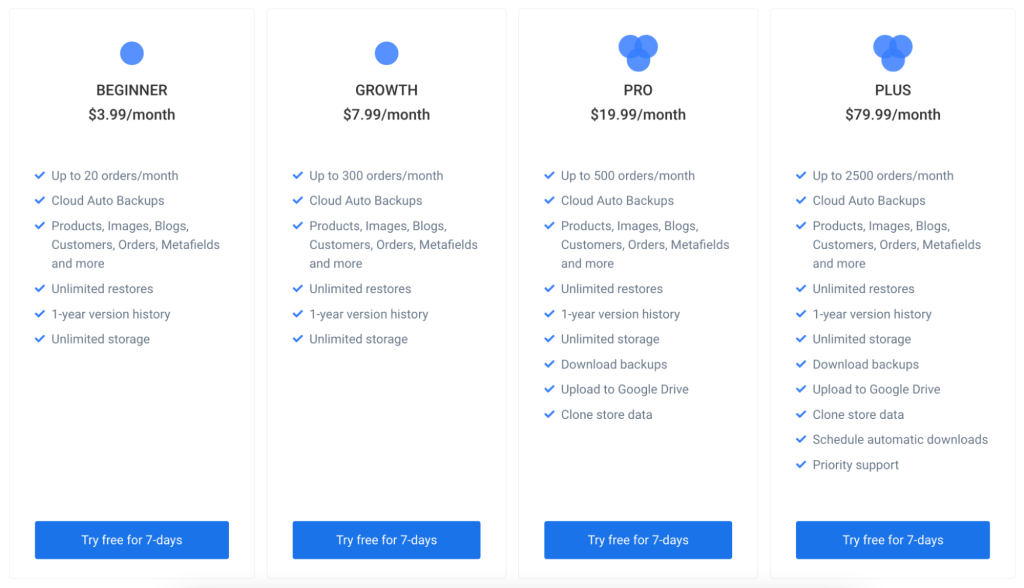 For larger businesses, there are other plans available at a cost of either $19.90 or $79.90 per month. These plans offer increased capacity and features to meet the requirements of businesses with higher volumes of data.
3. Rewind Backups


Rewind Backups is a highly popular application for backup Shopify store. With over 800 five-star reviews, it has become the preferred choice of many Shopify store owners. The app offers an automatic backup feature that ensures your store data is backed up every day.
One of the key advantages of Rewind is that it can monitor changes to your store in real time and instantly back them up. Moreover, it is the only backup application that has been certified as part of the Shopify Plus Certified App Program.
Pros:
Offer automatic daily backups and real-time backups for your Shopify store.
Certified by Shopify Plus, ensuring reliability and quality service.
All stored data, including theme files and metadata, is saved to protect against data loss.
Completely secure and adheres to GDPR compliance regulations.
Integrate with other apps such as QuickBooks, Trello, and Jira.
Cons:
Lack an option that allows users to customize the frequency of backups
Pricing:
Rewind Backups offer various pricing plans to suit different needs.
The basic plan starts at $3 per month and includes automated daily backups for up to 20 orders per month and one year of history.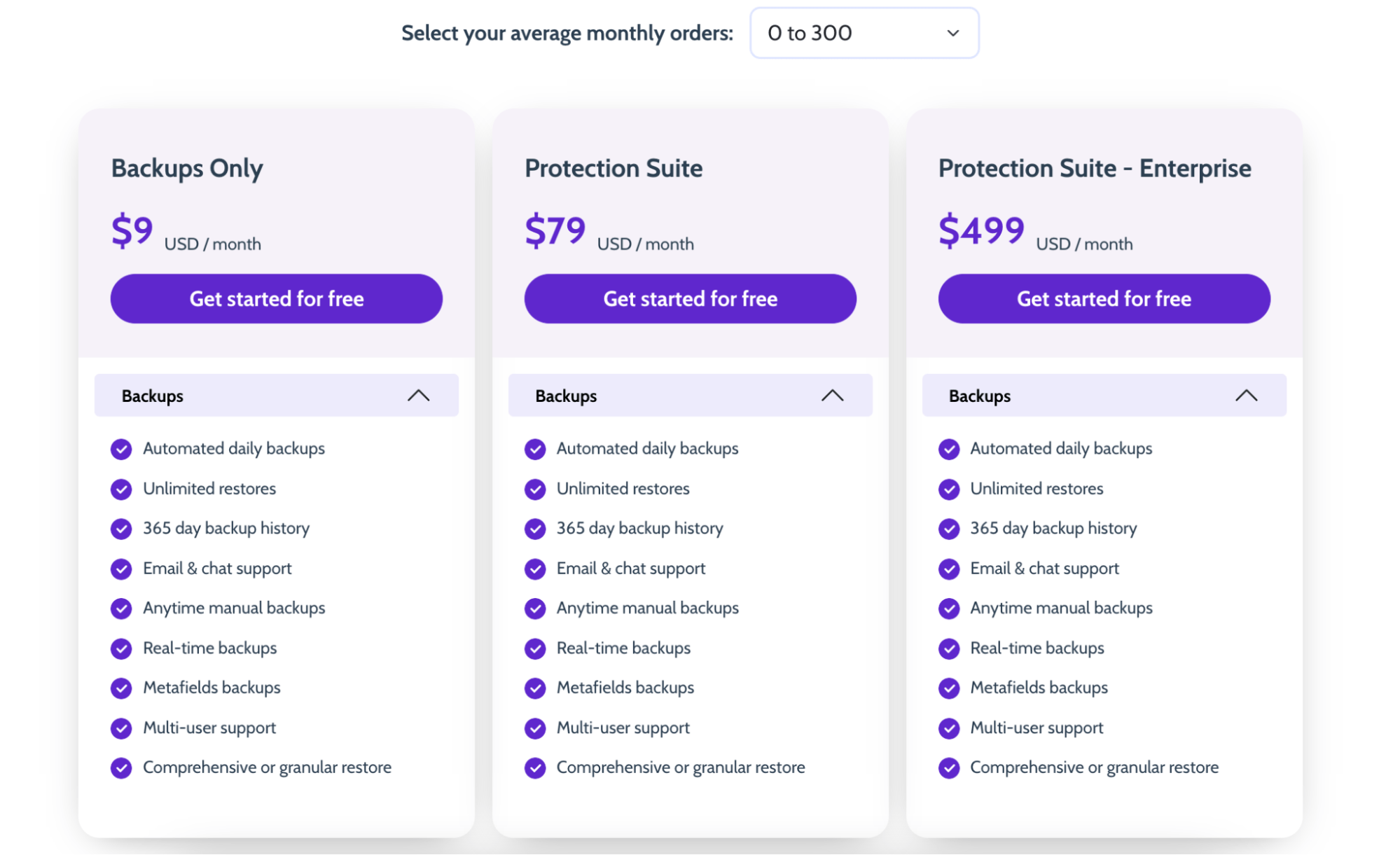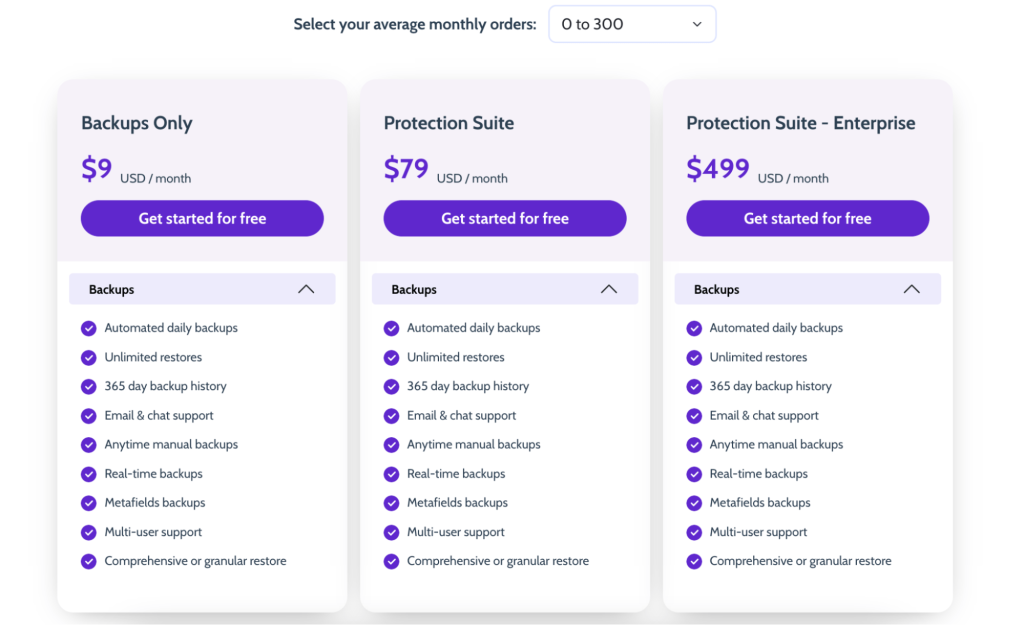 The Growth Plan is designed for those with up to 200 monthly orders and costs $9 per month. It includes automatic backups for product changes and on-demand backups.
For those with up to 600 monthly orders, the Pro Plan is available for $39 per month and includes everything from the basic and growth plans.
Finally, for larger businesses, the Rewind Enterprise Plan is available for $99 per month. This plan includes 2000 monthly orders and everything from the Pro Plan, plus support for multiple stores and metadata backups.
FAQ about Backup Shopify Store
1. Does Shopify store backup automatically?
No, Shopify just provides automatic backup of platform-level data and ensures timely updates. However, it is important to note that backup of individual account data is not included in this service. Therefore, it is the responsibility of the account holders to ensure their own data and backup Shopify store regularly.
2. Why should I backup my Shopify store?
Backing up your Shopify store is essential to protect your data from human errors, import errors, unfavorable changes, third-party app errors, hacking, natural disasters, and software errors. It's a simple way to keep your store safe and running smoothly.
3. How do I backup Shopify media files?
To back up images in Shopify, there are two options available. The first option is to manually copy and paste the image data to a safe location. The second one is to use a third-party application to perform the backup process for you.
Conclusion
The safety and security of your Shopify store is a crucial aspect of your eCommerce business. Following the steps outlined in this article can help you ensure the utmost safety and security of your Shopify store.
It is important to note that the responsibility of keeping your store safe lies solely with you as the merchant.
If you have any doubts or face any issues with backing up your Shopify store, our team of Shopify experts is always available to assist you. Don't hesitate to seek their opinion and take the necessary steps to safeguard your store.