If you're using PageFly to create stunning Shopify product pages, I bet you already know how awesome it is.
However, if you're constantly improving your products and want to enhance the shopping experience on your product page, especially for custom-made and print-on-demand products, you might want to integrate some product option elements into your PageFly product page.
Don't worry, it's super easy and completely free! This article will guide you through the simple steps to integrate PageFly page builder with EXPO Product Options.
By doing so, you'll be able to effortlessly drag and drop product options elements to your PageFly product page, customize them, and create a truly engaging and personalized shopping experience for your customers.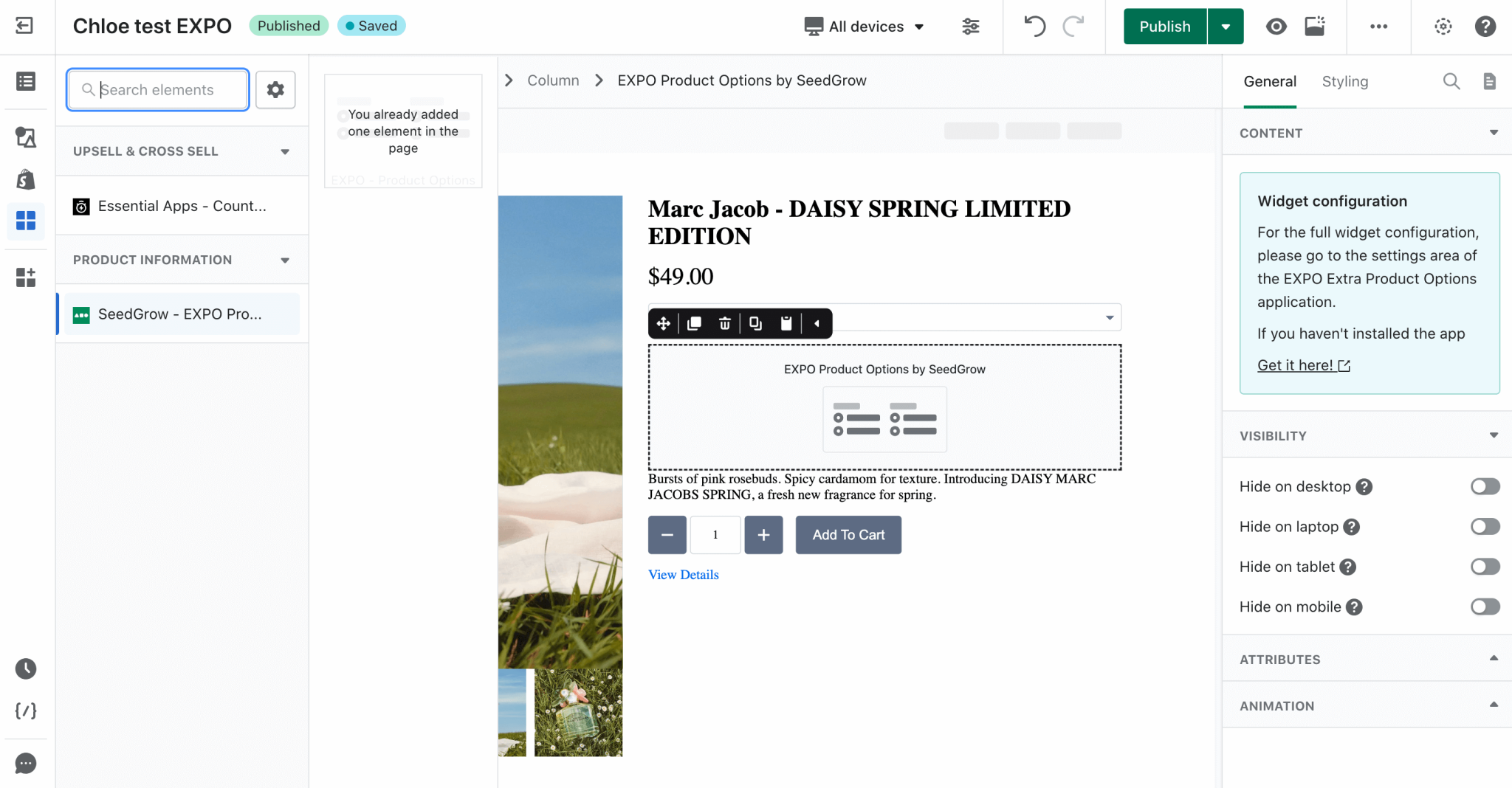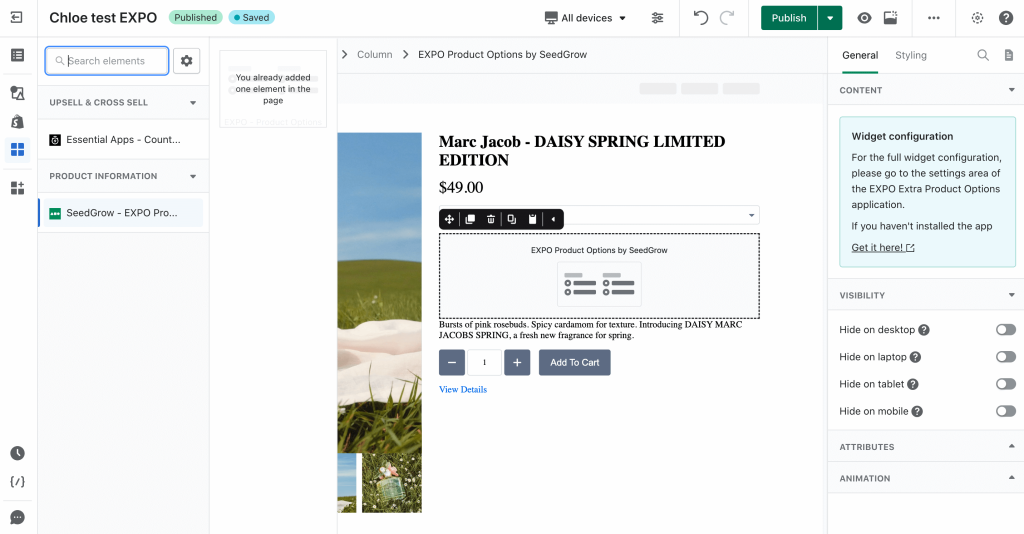 Table of Contents
1. Add EXPO Product Options Element
To utilize these elements, you need to first install the EXPO Product Options application on your store and configure/activate them within the app. After completing these steps, you can return to PageFly product page settings and incorporate the elements for the specific products you desire.
Step 1: Navigate to the Add third party elements option on the left toolbar and select the Edit your 3rd party elements button.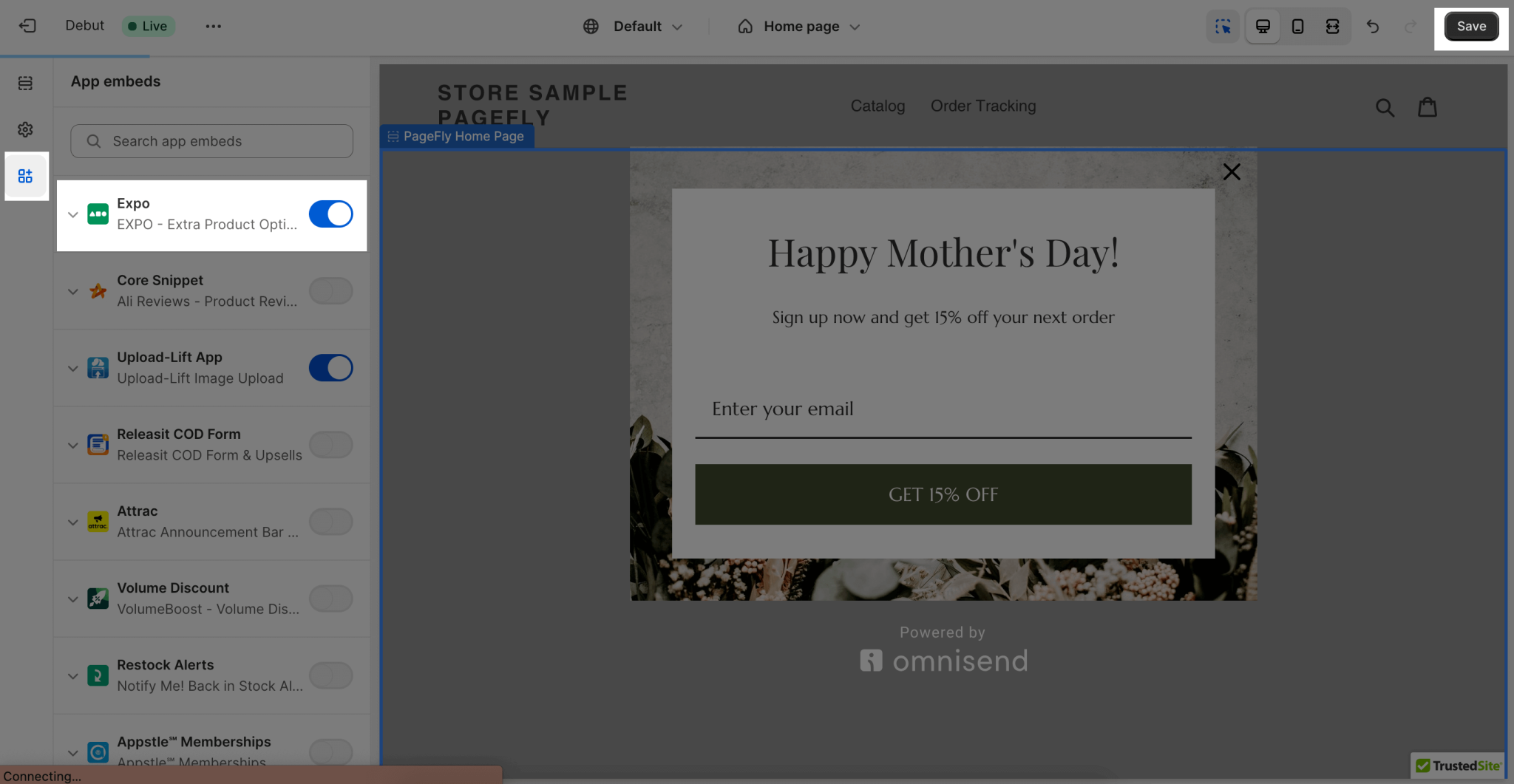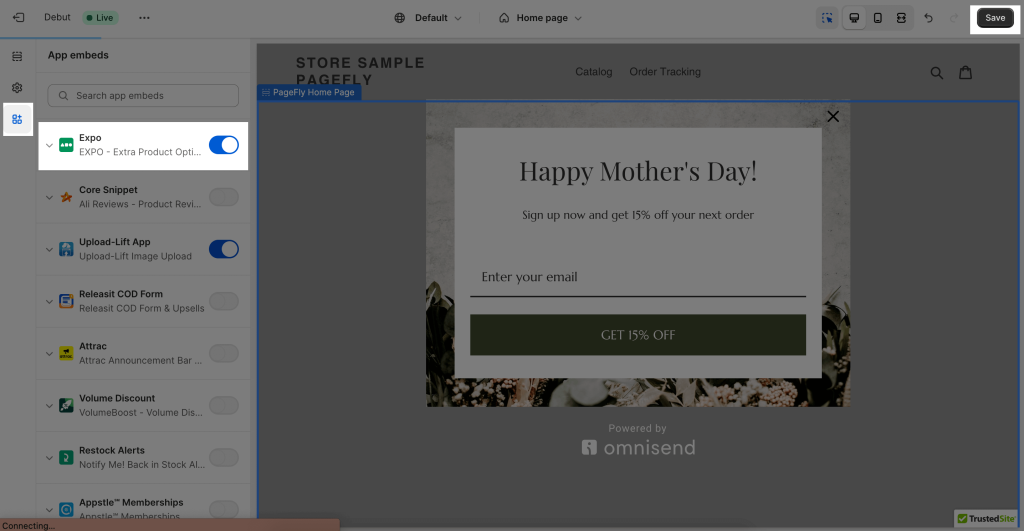 Step 2: In the Integrations popup page, search "EXPO Product Options" on the search bar
Step 3: Click on the EXPO Product Options element in the dropdown menu.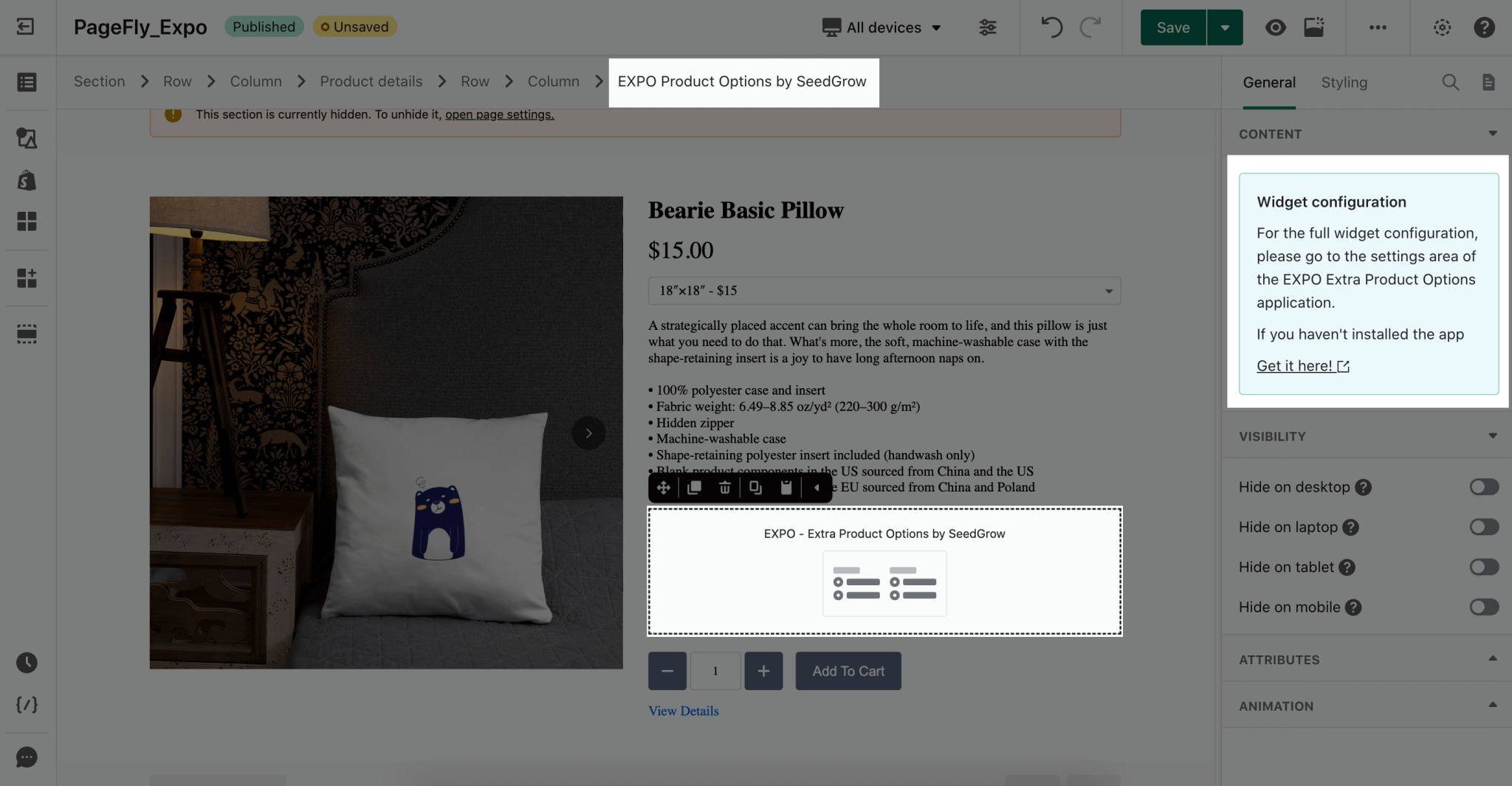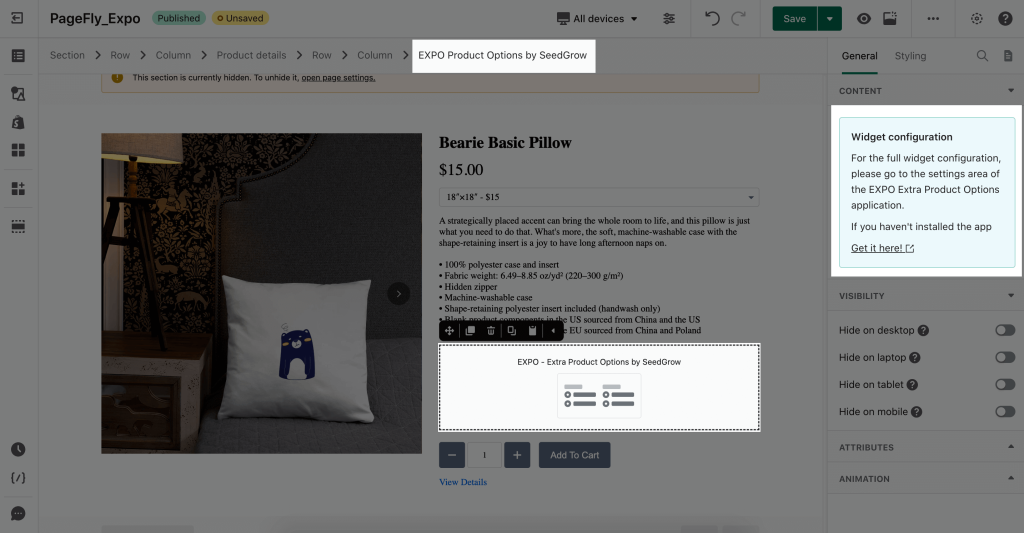 Step 4: Choose the desired variant and drag and drop it onto the editor page.
2. Format the Product Options Element in PageFly
Once you finish configuring options in EXPO Product Options, you can go to a PageFly product page and use this element.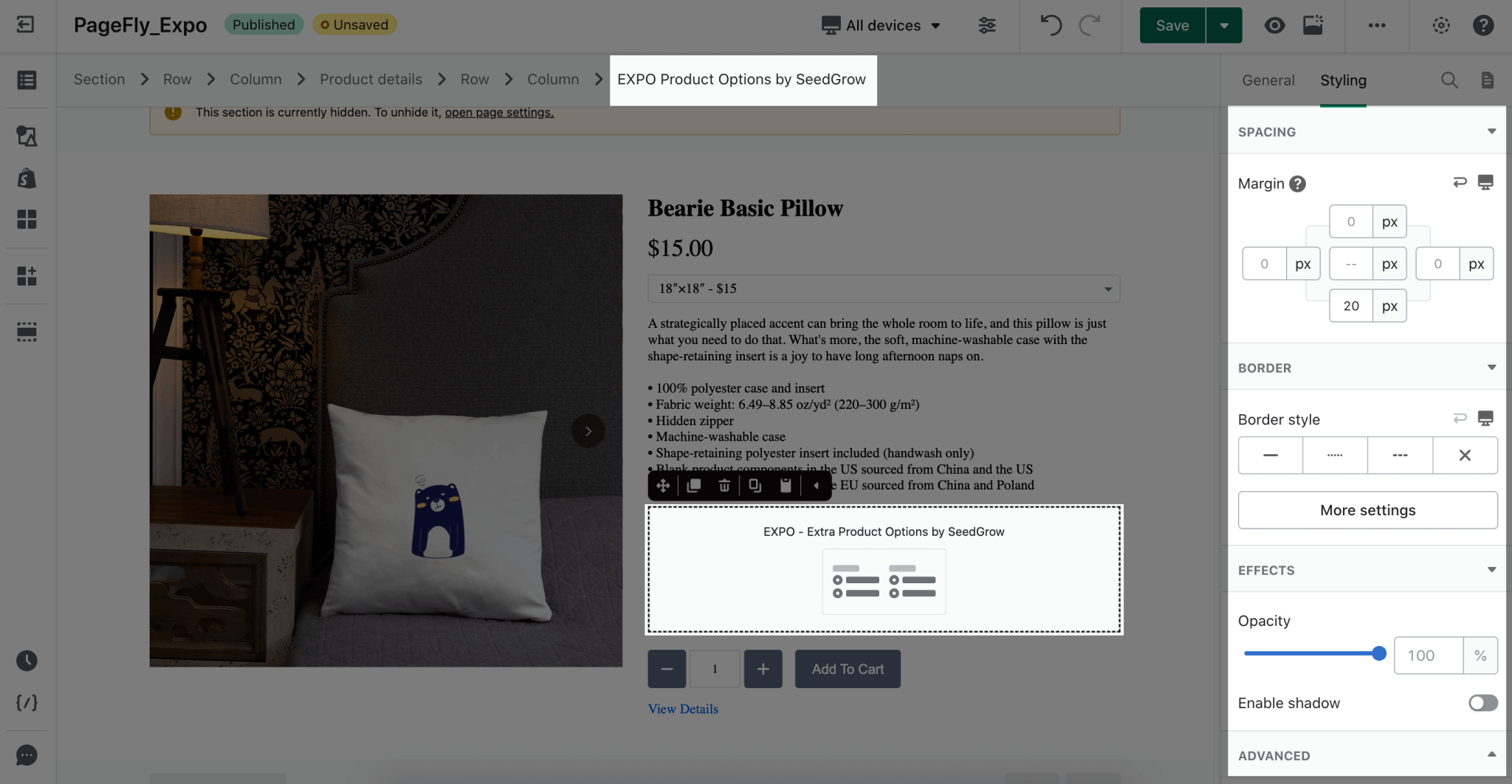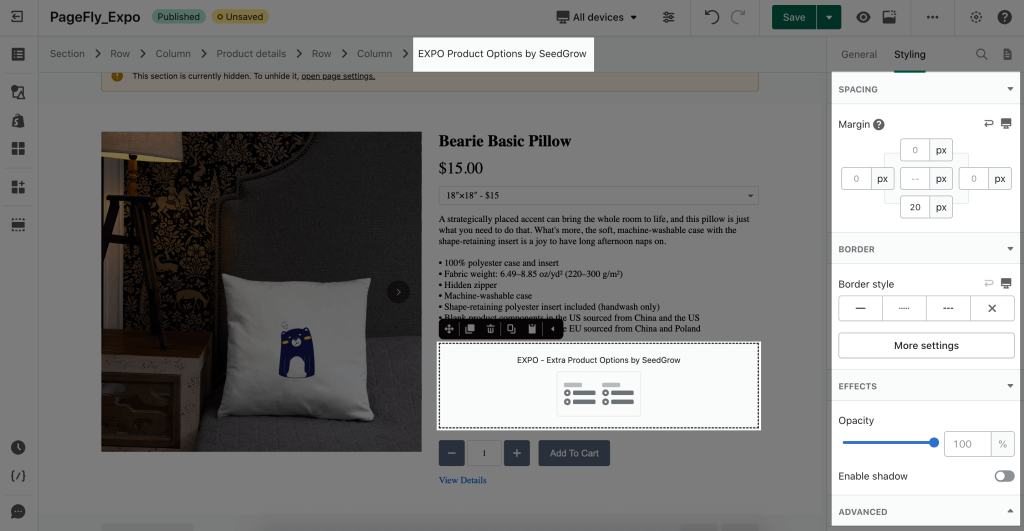 General Settings
The "General" tab contains a widget configuration that provides a brief overview of EXPO Product Options and a link to the app listing. You have the ability to edit various aspects of the product, including its content, visibility, tracking, attributes, and animation.
Styling Settings
In the Styling tab, you can edit the elements' Margin, Border, and Effect of Opacity.
You can check more information about the Styling tab here.
3. Configure Product Options in EXPO
Before using this element, you have to install the EXPO Product Options app to your store and configure all options in the app.
You can take a look at how EXPO Product Options works on an example product page through the video below:
Step 1: In the Option Sets tab of EXPO Product Options, click Create option set and choose the products you want to assign these options.
Step 2: In the Option Sets configuration, you can add one or more option types and configure them according to your needs by adding option values, notices, extra fees, conditions, etc. for specific products.
Step 3: Preview your changes and save them.
Use Case: Add Gift Wrap Product Option to PageFly Product Page.
Let's practice adding a gift wrap product option to a PageFly product page. For example, this involves creating a workflow where if a customer selects "Yes" to the question "Gift Wrapping?", they will be charged an additional $2 fee and presented with three gift wrapping style options.
Step 1: Create Option Sets
To begin, in step 1, we will create an option set that includes the product we are configuring on the PageFly product page. Go to Products tab to choose the assigned products.
Step 2: Configure Gift Wrapping Option
Moving on to Step 2, we will create the first option by editing the "Sample Option".
Change the name to "Gift Wrapping?" and set the option type as a Choice list.
Add option values "Yes" and "No". Then set an extra fee for the value "Yes".
Next, create the second option named "Styles".
Set the option type as a Dropdown Menu
Provide three option values such as "Birthday", "Christmas", and "Love".
In the Visibility settings, choose to display this option only if the "Gift Wrapping" option is set to "Yes".
Step 3: Preview and Save Changes
To confirm the proper implementation of modifications made in the options settings, it is advisable to preview them beforehand.
To facilitate this process, click on the Live Preview button to access a demonstration of your page with the updated settings.
Once you have reviewed the changes and are content with them, Save them and proceed to the front end of your website to observe them in action.
You'll find that all the product option settings in EXPO are synced with the EXPO Product Option element on PageFly. This means that your customers can easily select the gift-wrapping option through the PageFly product pages.
You can refer to the tutorial video below on adding Gift Wrap options to the Shopify product page using EXPO:
FAQ about PageFly Product Options
1. What is the EXPO Product Options element on PageFly?
The EXPO Product Options by SeedGrow element is designed to help you personalize your products by adding custom elements such as file uploads button, custom text boxes, time pickers, and so much more to PageFly product page. EXPO is compatible with several translation apps and even automatically converts prices and fees to local currencies, making it a great tool for increasing your global sales. 
2. Why should choose EXPO Product Options element for PageFly?
Firstly, the pricing of EXPO Product Options is super reasonable involving the Free plan. Secondly, you'll have access to advanced customization features that will let you tailor your products to your heart's content. And lastly, it's super easy to use and seamlessly integrates with PageFly, so you won't have to worry about any complicated setup or confusing instructions.
3. How much is EXPO Product Options?
EXPO has an exclusive free plan available for you to try out. It includes six basic option types like Text, Number, Dropdown, Checkbox, Choice list, and Swatches. Plus, you'll also get cool features like Display Conditions, the ability to add fees and discounts, and an Interactive Preview.
If you're looking for more customization and additional option types, you can upgrade to a BASIC plan starting at just $7.90/month. The PRO plan offers even more features and option types for just $19.90/month. So you can easily choose the plan that's right for you.
4. How does EXPO Product Options element help level up the PageFly product page?
EXPO Product Options element provides a wide range of options and customizable fields that can help customers get unique and tailored products. Besides, it automatically expands the next options based on customer selections, streamlining the selection process.
It's Time to Level Up PageFly Product Page with Extra Product Options
You are now ready to enhance your customer e-commerce shopping experience with customized product options on your PageFly product pages!
With the simple integration of EXPO Product Options, you can easily drag and drop product options elements and create a personalized shopping experience that will leave your customers satisfied and coming back for more.
Plus, the best part is that it's completely free! Don't hesitate to give it a try and take your product pages to the next level. Happy selling!